April Fools: Hotelicopter
Submitted by Richard Smith on April 1, 2009 - 12:37
I couldn't come up with an aerodynamic themed April Fools' joke this year, but even if I had, I'm certain it wouldn't have fared well against the Hotelicopter.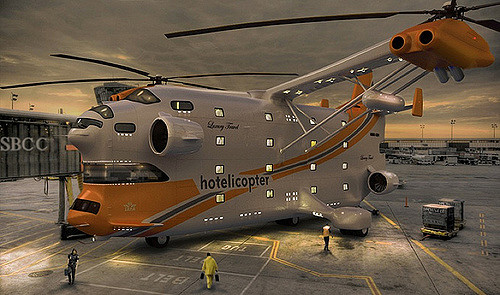 Hotelicopter
Some details on the Hotelicopter from the official website:
Largest helicopter ever to fly
Houses 18 luxurious, soundproofed rooms, each with a queen-sized bed
Maiden flight in the summer
Aimed at "...adrenaline junkies seeking a truly unique and memorable travel experience"
There's just one small catch - it's fake!
The Hotelicopter is supposedly a converted Russian Mil V-12, and there is even a promo video showing it in action.
A little research reveals only two Mil V-12s prototypes were ever made in the 1960s and neither is capable of flying today. Still, why let reality cloud the world of fantasy? New media lapped it up judging by stories on Gizmodo and Engadget (though they've taken it down), and the number of followers on Facebook and Twitter. Lesson learned: sometimes it pays to be a little slower off the mark.
Clearly the Hotelicopter passed the 'people are interested' mark - maybe now someone will actually consider making this fake real.