Of Blended Wing-Bodies and Flying Wings
Submitted by Richard Smith on July 31, 2007 - 08:59
The remote controlled X-48B concept airplane flew for the first time on July 20, 2007. Joining an illustrious list of previous X-planes, such as the X-15, the X-48B aims to prove the viability of the blended wing-body concept – a combination of a flying wing and a lifting body. If history is anything to go by, the X-48B will have its work cut out.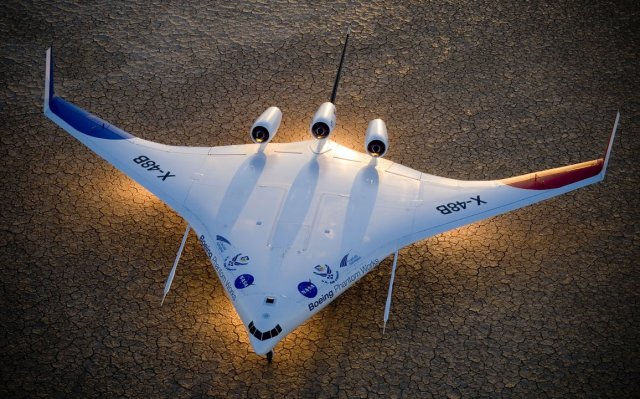 X-48B Blended Wing BodyCourtesy of NASA
With Boeing's takeover of McDonnell Douglas, Boeing inherited and successfully flew a small remote-controlled blended wing-body with a 17 ft wingspan (5.2m) powered by propellers in 1997. Next Boeing and NASA moved on to a more ambitious blended wing-body program (X-48A) with a 35 ft (10.7) wingspan powered by 3 turbojets. The X-48A was abandoned in 2002 after problems with its flight control system kept it grounded. For the X-48B, they contracted nimble Cranfield Aerospace to build an 8.5% scale model with a 21 ft (6.4m) wingspan again powered by 3 turbojets.
Boeing and NASA aren't the first to be enticed by the fuel efficiency of a flying wing derived design – nor are they likely to be the last. On such designs the entire airplane (including the fuselage) generates lift and is streamlined to minimize drag and produce a high lift-to-drag ratio. On a typical airplane the cylindrical fuselage is a significant source of drag and generates no lift. Thus, a flying wing derived design promises significantly higher fuel economy over traditional airplanes. Of course there are also serious drawbacks to flying wings; otherwise we'd see more of them. The main problem is their inherent aerodynamic instability, such that if a problem occurs in flight they tend to become fatally uncontrollable. Another issue is where and how to carry cargo, given that slender wings are the most efficient aerodynamically but provide little cargo space.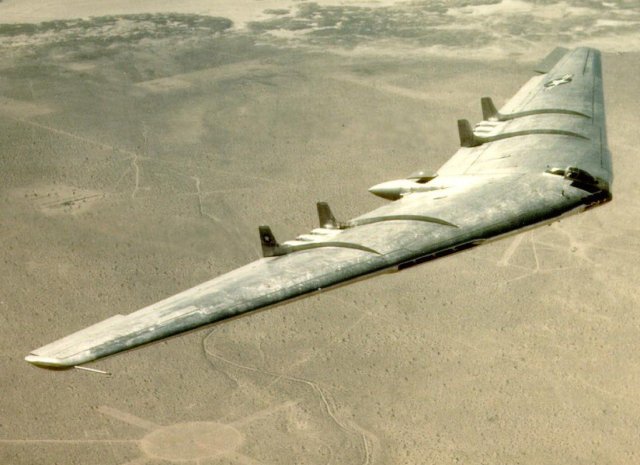 Northrop YB-49 Flying WingCourtesy of US Air Force
Initial interest in viable flying wings surfaced during World War II. The Horten Ho-IX (Ho 229) was an advanced German turbojet-powered flying wing prototype that flew toward the end of the war (1945) and crashed on its maiden flight. Additional prototypes were captured by the US military (under Operation Paperclip) during their liberation of Europe and sent to Northrop for evaluation. Northrop was the leading US exponent of flying wings, having flown its N-1M in 1941 and the N-9M in 1942. Northrop's interest in flying wings was initiated by pre-war Horten glider designs.
The other aerospace power of the time, Britain, flew the Armstrong Whitworth AW.52 in 1947, based on a flying wing design pursued during the war. The first of 2 prototypes crashed in 1949. The pilot survived, becoming the first British pilot to successfully eject in a real situation using a Martin Baker Type 1 ejection seat.
Northrop, more than any other manufacturer, advanced the flying wing concept into viable airplanes, producing the YB-35 (1946) and YB-49 (1948) prototypes. The YB-49 was essentially a turbojet version of the YB-35 piston-powered prototype. Like many flying wing programs at that time, the development was marred by fatal accidents. One prototype YB-49 crashed in 1948, killing the entire 5 man crew. Ultimately the YB-49 program was dropped after proving inferior to the conventionally configured Boeing B-47 Stratojet in terms of weapons carried and range.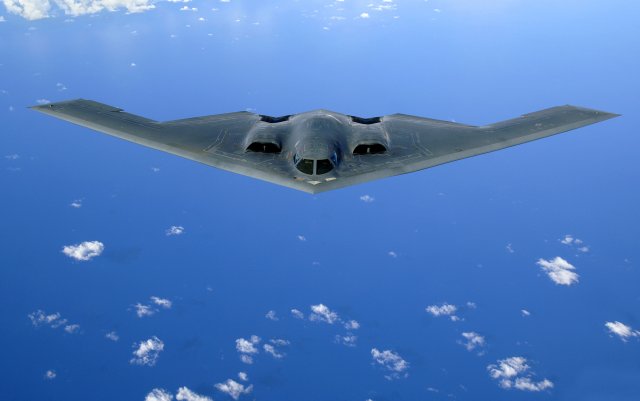 Northrop Grumman B-2 SpiritCourtesy of US Air Force
Northrop Grumman is a model of persistence and finally in 1989 it flew the B-2 Spirit flying wing for the first time. Flying wings are inherently stealthy given their relatively small vertical cross-section and so there was a compelling reason to revisit the design. With advances in flight control systems brought about by fly-by-wire controls, the inherent instability of flying wings no longer posed a safety problem. Shrouded in secrecy and controversy concerning its cost (the most expensive airplane ever at $2 billion apiece), the B-2 is the sole a rare example (see comment) of a flying wing reaching production.
Let's hope that the promised benefits of a blended wing-body for civilian airplanes can be realized, with the X-48B pushing the concept design forwards. With access to advanced Computer-Aided Engineering (CAE) tools such as Computational Fluid Dynamics (CFD) and mature fly-by-wire controls the X-48B and, hopefully, its successors have a head start over most of their predecessors.
If there's a lesson to learn here it's that persistence pays – just ask Northrop.