CAE Without CAD is Lame, CAD Without CAE is Blind
Submitted by Richard Smith on January 3, 2011 - 09:57
As well as dreaming up innovative ideas, small engineering companies and consultancies need access to cost-effective tools that let them explore, optimize, and validate their widgets. There are plenty of Computer-Aided Design (CAD) tools available, but CAD is not enough.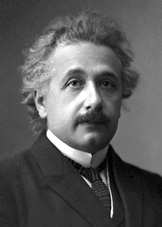 Albert Einstein
Engineers have to optimize and validate a widget, not just draw it. Optimization means assessing (preferably with quantitative measures) an array of alternate concepts in order to select the best widget. Validation means assessing whether a widget can meet its functional requirements. Previously, costly physical experiments prevented all but the most well-funded companies from optimizing and validating their designs. But now, with Computer-Aided Engineering (CAE) analysis tools, such as Computational Fluid Dynamics (CFD) , the smallest companies and consultancies can join the party.
Needless to say that CAE is useless without the geometry provided by CAD.
To misquote Einstein, "CAE without CAD is lame, CAD without CAE is blind."