Caedium CFD Software Helps High School Team To 2nd Fastest Time at the German F1 in Schools Finals
Submitted by symscape on June 12, 2012 - 09:50
You may recall back in March that I covered how the high school team Fastcination won the South-East German F1 in Schools competition with help from Caedium. That regional win qualified Fastcination to compete for the 2012 German F1 in Schools title and now the results from that competition are in. Fastcination recorded the second fastest track time thanks to their low-drag CO2 dragster, aided by the Computational Fluid Dynamics (CFD) simulations performed by Caedium Professional.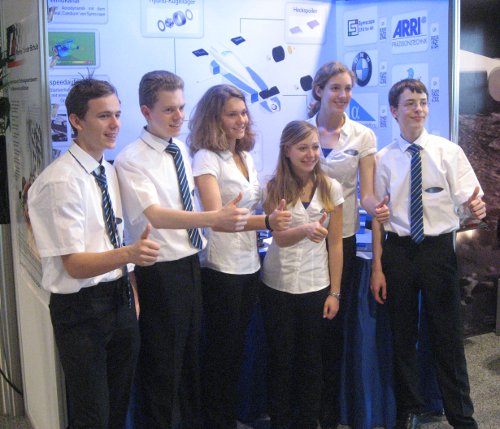 Team FastcinationLeft to right: Steven Klotz, Julian Lemke, Nicola Schrepf, Maria Voss, Merle Schulken, Gregor Matl
Fastcination's design and production engineer Gregor Matl summed up the contribution of Caedium:
"We are especially proud that we could significantly improve the speed of our car, which came in second. We owe this improvement mostly to Caedium, which enabled us to optimize our racecar's aerodynamics."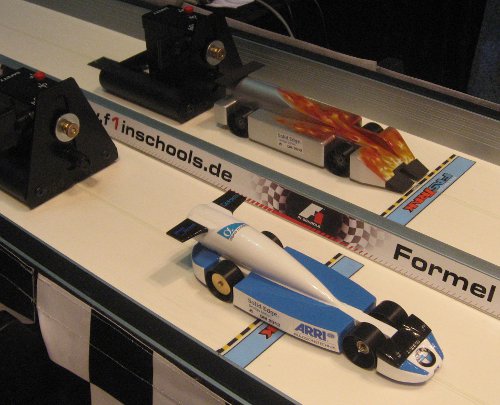 Fastcination CO2 Dragster: Blue and white BMW livery
Overall Fastcination finished 4th, and was awarded a prize for the best oral presentation. Although they do not get to go to the F1 in Schools world final to represent Germany, they have seen that the process of designing, manufacturing, and marketing a racing car can be fun and rewarding. The idea behind the F1 in Schools competition is that it can serve as a breeding ground for the next generation of engineers - as far as Gregor and his team are concerned - mission accomplished!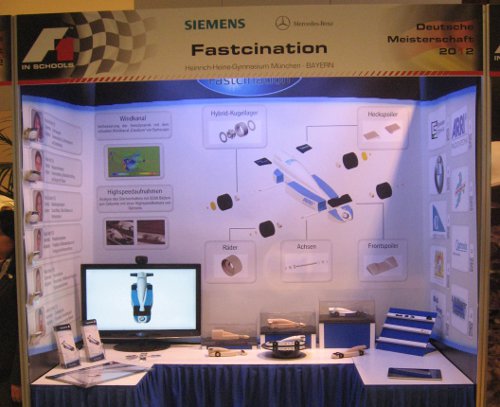 Fastcination Booth Display