Caedium Clarified
Submitted by Richard Smith on August 3, 2015 - 15:40
Based on the inquiries we receive concerning Caedium and our business model I thought it would be useful to share the most common clarifications. Also you can find answers to common questions in our FAQs. Don't see the clarification that you seek? Then feel free to ask your question in the comments below.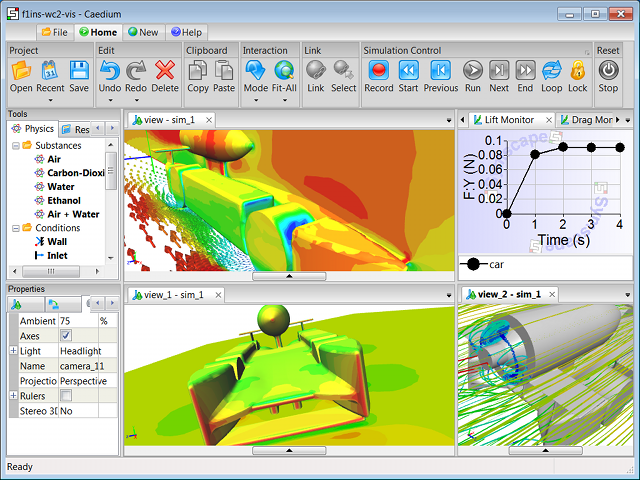 Caedium Professional in Action
Caedium Add-Ons
Caedium is a single, unified, simulation platform where value-added functionality is provided by add-ons (e.g., RANS Flow).
Caedium Professional is a convenient way to activate all Caedium add-ons.
Without any activated add-ons you can use Caedium to view project files (.sym).
If the feature is not listed on the respective add-on product webpage then it is not supported.
The product webpage for the RANS Flow add-on has a section "Not Supported" to clarify unsupported features.
OpenFOAM
Caedium provides geometry manipulation, native meshing, solver control, and visualization, so it is much more than just a GUI for OpenFOAM.
A selection of OpenFOAM solvers act as the CFD engine within the RANS Flow add-on.
Using Caedium is not a good way to learn OpenFOAM, given that OpenFOAM targets Unix as a file-based command line CFD toolkit.
Multi-Platform
Caedium is a multi-platform system, running natively on Windows, Mac OS X, and Linux.
Within Caedium the OpenFOAM solvers also run natively in the background on Windows, Mac OS X, and Linux.
Meshing
Caedium provides native meshing algorithms for tetrahedral, hexahedral, and polyhedral elements.
Surface mesh nodes are located on the true analytic geometry (e.g., NURBS) when available.
Support
Online tutorials for Caedium are freely available.
The forums are open to questions from anyone with a free Symscape account.
Only Caedium Professional paid subscriptions have one-on-one technical support in the form of email, webinar, and/or phone.
Licensing
Free 30-day trials are limited to one per person per computer.
Free trials are not transferable between computers.
Paid subscriptions are transferable between computers.
Caedium add-ons are only available as subscriptions (i.e., time limited).
Caedium is not available with a perpetual license.
Prices
Subscription rates are listed on individual add-on product webpages.
Feature and subscription rates are also listed on the Comparison webpage.
The longer the subscription period (1 month, 3 months, and 12 months) the lower the monthly rate.
Subscriptions are paid upfront in full for the entire subscription period.

OpenFOAM is a registered trademark of OpenCFD and is unaffiliated with Symscape.