Cape Wind: Engineering is the Easy Part
Submitted by Richard Smith on February 11, 2009 - 15:34
You'd think that siting and constructing an offshore wind farm would be all about engineering and financial challenges, but you'd be wrong, at least in the case of the proposed Cape Wind wind farm in the waters off Cape Cod, Massachusetts. Cape Wind is a US$900 million project that aims to construct and run 130 horizontal-axis wind turbines to generate 468 (at peak) megawatts on Horseshoe Shoal in Nantucket Sound.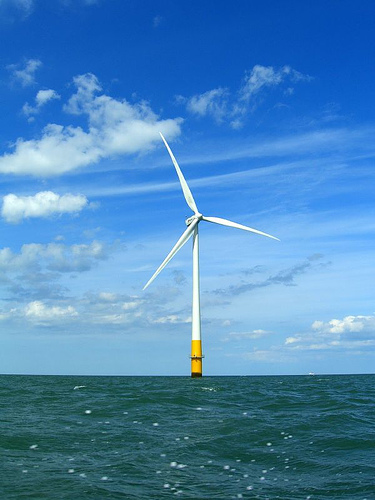 Offshore Wind Turbine: Kentish Flats, EnglandLicensed: CC BY 2.0, phault
Challenges
There are numerous engineering and financial challenges for offshore wind farms, including:
Construction at sea
The corrosive effects of saltwater
Routing electricity to shore
Turbine maintenance
Financing the construction
These pale into insignificance for the Cape Wind project when compared to the well-organized and exceeding well-funded Alliance to Protect Nantucket Sound - a lobby of a few wealthy coastal residents who don't want wind turbines visible on their distant horizon. Sound familiar? It's the same argument that has limited the growth of land-based wind farms. The view-spoiling effect of offshore wind farms was thought to be minimal and so it was thought that offshore wind forms should be able to avoid prolonged public enquiries into their location. The fact that the nearest coastal resident to Cape Wind would see a thumb-sized turbine on the horizon doesn't seem to have placated the wealthy few who still find it unacceptable.
Opportunities
The dense population centers in the US adjacent to its coasts consume the majority of the nation's electricity (78%). It makes sense then to locate power generation close to these centers, and you can't get much closer than offshore along the coasts. Also offshore winds are typically reliable and strong - ideal for wind turbines - when compared to inland alternatives.
Climate change due to greenhouse gas emissions, especially carbon dioxide (CO2) from burning fossil fuels, is another reason that renewable energy from wind appears ever more attractive. For example the projected electricity supplied by Cape Wind would be equivalent to burning of 113 million gallons of oil a year, thus avoiding the emission of CO2 by approximately 1 million tons annually.
Opposition
In the case of Cape Wind, one of its strongest opponents is the Hyannis, Cape Cod resident Ted Kennedy, the US Democratic Senator. Yet he is also a vocal supporter of renewable energy generation, just not in his line of sight at sea it appears. Under his secretive stewardship, opposition to Cape Wind has materialized in some strange places. For instance one bill amendment nearly passed in 2006 by Congress, proposed by the Alaskan Republican Congressmen Don Young and Ted Stevens, would have effectively killed the Cape Wind project. Both Alaskan's are beneficiaries and supporters of big oil and have backed drilling for oil in the Alaskan National Wildlife Refuge (ANWR). Now it's difficult to see what interest Young and Stevens would have in a wind farm in Kennedy's back yard on the east coast, especially when you consider that Kennedy is against oil drilling in ANWR. It's also strange that the two Republicans would show such blatant support for a personal cause pushed by that "lion of liberalism," Kennedy. Might we have seen a quid pro quo with the influential Kennedy reversing his opposition to oil drilling in ANWR if the Cape Wind killer bill had passed?
The intriguing Cape Wind story makes for a great read: "Cape Wind - Money, Celebrity, Class, Politics, and the Battle for Our Energy Future on Nantucket Sound," by Wendy Williams and Robert Whitcomb. The colorful cast not only includes Ted Kennedy, but also:
The Future
Luckily for Cape Wind the project has been led by the tenacious Jim Gordon, who for 8 hard fought years (since 2001) has persevered against a well connected and wealthy opposition. So I think that Cape Wind will succeed, but if this is going to be the pattern for future offshore wind farms in the US, then I'm not so sure about their prospects. There are only so many years in a life time and there's only one Jim Gordon.
Surely some kind of proportional sacrifice becomes self evident. In return for the sight of a thumb-sized wind turbine on a distant horizon we get renewable power generation, reducing our reliance on fossil fuels and helping to slow the effects of climate change. Ironically, it's the very coast that is most at risk with rising sea levels due to climate change - you'd think that's a self interest that everyone could support, even the wealthy coast dwellers of Cape Cod.