CFD for Your SMB
Submitted by Richard Smith on February 2, 2016 - 14:19
Being a small business ourselves we understand that one of the key issue that drives many Small-to-Medium-sized Businesses (SMBs) is efficient resource allocation. For Computational Fluid Dynamics (CFD) simulations, our area of expertise, that means the SMB wants their needs precisely met in terms of pricing, features, and support. To address these issues, Symscape offers flexible duration subscriptions to Caedium that include support and various bundled features in Caedium add-ons. There are no initial sign up fees and no re-sign up fees.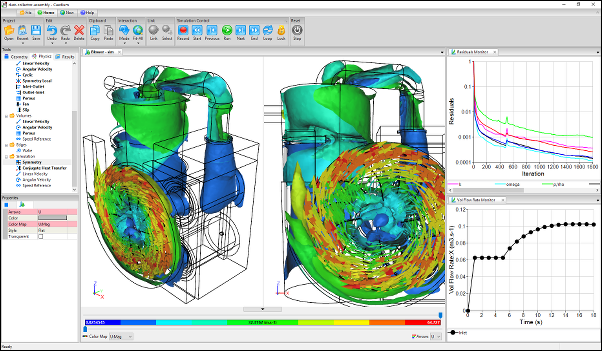 Caedium CFD Simulation of a Dust Collector
Barriers to Entry
Clearly there is a learning curve for CFD, but our free, full-feature 30-day Caedium trials and our free online resources in the form of tutorials and forums can help ease the pain. Once a user takes out a paid subscription we provide one-on-one support to accelerate the transition to CFD proficiency.
Another pain point for CFD is the buying process and especially so for the resource strapped SMB. Most CFD vendors make it difficult to determine exactly how much CFD will cost without entering a drawn-out sales discussion. At Symscape we have fixed prices published on our website. Immediately after an online payment clears, a Caedium license key is automatically emailed to the buyer, so you can be up and running your CFD simulations in a matter of minutes.
While there are scare stories about the computing resources required by CFD, typically you can get started with Caedium using a CAD-level workstation, which is likely already available in most SMBs. Caedium can take full advantage of multi-core processors by running CFD simulations in parallel to keep turnaround times to a minimum.
General Purpose CFD with Automation
Caedium is a general purpose integrated CFD system that includes everything a SMB needs to perform CFD simulations, including geometry creation/import, meshing, solver setup/control, and 3D/2D results generation. This configuration is a great place for the SMB to start CFD with a focus on internal and external flows, with or without heat transfer. Caedium has a modern user environment based on drag-n-drop and multi-level undo/redo. This approach means you only have to learn a couple of simple concepts to be proficient across the entire CFD process, from geometry creation through to results visualization.
When you find yourself repeatedly performing the same sequence of operations or you have a parameterization study to complete, you can automate the process using Caedium's Python scripting. You can simply record a sequence of operations as a macro, or get wild and use the powerful features of the standard Python language.