Design-Build-Fly Competition
Submitted by Richard Smith on July 23, 2007 - 19:46
An international gathering of 36 student teams competed in the 2007 AIAA Design-Build-Fly competition. In its 11th year, the popular contest challenges student teams to build an unmanned, remote-controlled airplane to satisfy a series of constraints and flying tasks.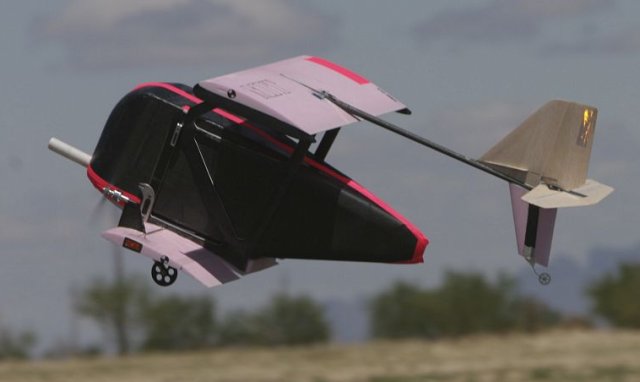 2007 Design-Build-Fly Winner from MITCourtesy of competition website
The 2007 competition was held on April 20-22 in Tucson, Arizona. The contest required each team's airplane to:
Fit in a 2 x 4 x 1.5 foot shipping container
Fly a surveillance mission carrying a dummy camera
Fly an air sampling mission carrying a dummy air sampling system
The final designs could be classified as:
Massachusetts Institute of Technology (MIT) pushed Oklahoma State University into 2nd, breaking Oklahoma's 3 year winning streak. MIT's entry, OBOSU, rated highly in the Rated Aircraft Cost (RAC) analysis, which favored lightweight designs and short wingspans. Notably the top 2 designs were biplanes. Purdue University finished 3rd with a lifting body design.
Results
Oklahoma State University - OSU Orange
Purdue University - Spirit of Amelia
Oklahoma State University - OSU Black
Wichita State University - Shockin' Surveyor
A key part of many student competitions is a design report and the Design-Build-Fly is no exception. Key required sections are:
Conceptual design
Preliminary design
Detail design
Clearly there is ample scope to use Computer-Aided Engineering (CAE) tools during the preliminary and detail design phases of such a competition. However, the conceptual design phase is currently dominated by ad-hoc analysis using pen, paper, calculator and generic office software (such as Microsoft Excel). Caedium aims to change this state of affairs and open up conceptual design analysis for all.