Dimples on Golf Balls
Submitted by Richard Smith on February 22, 2007 - 11:16
Dimples on golf balls and vortex generators on wings are both designed to induce turbulence in boundary layers.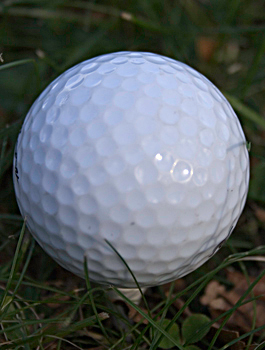 Dimpled Golf BallCopyright 2007 StockPhotography.com, used with permission
A boundary layer is the layer of fluid (gas or liquid) next to a moving surface (wall) where the fluid transitions from zero velocity at the wall to the free stream velocity away from the wall. By inducing a turbulent boundary layer at an otherwise laminar boundary layer speed (determined by the Reynolds number), the detachment (separation) of the boundary layer from the wall is delayed, thus reducing drag.
Drag force is considered an unavoidable nuisance, always opposing the direction of travel through a fluid. For example small drag decreases in passenger airplanes translate into substantial fuel cost savings, but for golfers...priceless.
If the laminar boundary layer is unlikely to separate, e.g. low speed flow over a wing at low incidence, then inducing a turbulent boundary layer will not reduce drag and will actually increase it.
Flow around a sphere of golf-ball size and moving through the air at golf-ball speed will always separate with or without spin. The combination of the size and speed of a golf ball doesn't allow a turbulent boundary layer to develop naturally. Thus without dimples the laminar boundary layer will separate earlier inducing more drag than the dimpled, and therefore turbulent, version.