Engineering in Sports: Cycling 1 Hour World Record
Submitted by Richard Smith on June 2, 2008 - 07:03
The current debate as to whether a specially engineered Speedo LZR Racer swimsuit provides an unfair advantage to its wearer is analogous to the debate concerning the 1 hour cycling world record back in 1993. Starting in 1993, cycling faced an arms race of sorts with the prospect of continuous aerodynamic innovation significantly improving the 1 hour world record. This caused people inside and outside cycling to question whether human performance really mattered.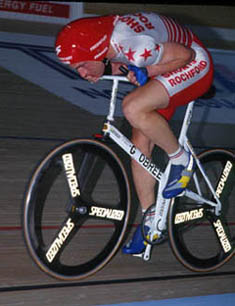 Graeme Obree Riding Old FaithfulLicensed under the GNU Free Documentation License
If a truly revolutionary performance innovation appears in a sport, there are two options for the sport's governing body to consider:
Allow it either unchecked or within modified rules
Ban it and risk creating a new branch of the sport
Cycling 1 Hour World Record
Cycling's governing body, Union Cycliste Internationale (UCI), has twice taken decisive action with respect to the 1 hour cycling world record in an attempt to keep the record as a measure of human performance rather than innovative bicycle design.
The first challenge to the status quo occurred in 1933 when Francis Faure set a new 1 hour record of 45.055km (27.996 miles) using an innovative aerodynamic recumbent bicycle. Riding in a recumbent position (i.e., sat low to the ground with outstretched feet first) produced a significant reduction in drag (due to a reduced frontal area) compared to the traditional upright riding position. In 1934 the UCI banned recumbent bikes from competing for the 1 hour record, which caused a splinter group to form, currently called International Human Powered Vehicle Association (IHPVA). IHPVA allows any human-powered vehicle to compete for its version of the 1 hour record, whereas UCI allows only upright bicycles.
One of the most distinguished holders of the UCI 1 hour record was Eddy Merckx, who went to the high altitude of Mexico City to claim the record of 49.431km (30.715 miles) in 1972. The high altitude ensures rarified air (less dense than sea level), which reduces the drag force acting on the rider. The same effect is responsible for sprinters running faster times at altitude compared to sea level.
UCI Bans Aerodynamic Aids for 1 Hour Record
Starting in 1993 through 1996, Graeme Obree perfected a series of bicycles (best known was "Old Faithful") and aerodynamic body positions that saw him and others on bicycles he either designed or inspired repeatedly break the 1 hour record by significant margins. In response UCI refused to recognize records produced on bicycles using aerodynamic aids as of 2000 - essentially they mandated that the bicycle and body position should be equivalent to that used by Eddy Merckx when he set the record in 1972.
The current UCI 1 hour record was set (without the assistance of altitude) in 2005 by Ondrej Sosenka at 49.700km (30.882 miles) - only 0.5% further than Merckx's altitude assisted record.
IHPVA 1 Hour Record Improves
Meanwhile from the 1980s onward the IHPVA 1 hour record improved at a rapid rate. Needless to say IHPVA record bicycles are optimized to minimize aerodynamic drag using a teardrop-shaped enclosure around a recumbent bicycle frame.
The current IHPVA 1 hour record is held by Sam Whittingham who rode "Varna Diablo" to 86.752km (53.917 miles) - an amazing 75% further than the current UCI record.