Faceted Modeling
Submitted by Richard Smith on October 8, 2007 - 20:17
A vast army of 3D artists, initially led by movie and game animators, but more recently joined by students and hobbyists, have compiled an extensive archive of 3D faceted models. These models cover every imaginable item from the mundane, such as eating utensils, to the realms of pure fantasy, such as the Starship Enterprise from Star Trek.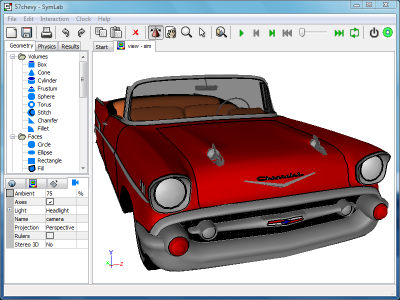 1957 Chevy Model
Facets Versus NURBS
Faceted models consist of groups of polygons (often triangles). In contrast, most Computer-Aided Engineering (CAE) models originate from Computer-Aided Design (CAD) systems which typically use continuous surface and edge definitions based on NURBS. CAE simulations then break down this NURBS representation into facets by a process known as meshing. The mesh (or grid) is then used as the basis to perform simulations such as Computational Fluid Dynamics (CFD).
The advantage of retaining the NURBS definition is that different levels of model detail can be produced without losing fidelity as the facets are always guaranteed to conform to the original definition. When facets alone are the geometry definition, producing different levels of detail causes aliasing problems whereby subsequent facets no longer conform to the original continuous, smooth definition. Instead, artifacts of the facets will be manifest in subsequent models as sharp abrupt changes, especially in regions of high curvature such as the leading edge of an airfoil. No amount of mesh refinement can recover the original smooth curvature.
What faceted models lack in quality compared to NURBS, they make up for in the sheer quantity and diversity of examples available. These faceted models are particularly appealing to engineering marketing where a simulation, such as air flow over a car, can be incorporated into a marketing brochure. Such simulations are less concerned with exact physical reality and tend to focus on creating eye-catching visuals.
Formats
Popular formats for faceted models are:
Topology Recovery
Most of the faceted formats, except for stl, provide groupings of facets that reflect material properties such as glass and metal. However, these groupings are typically inadequate for a CAE simulation which requires surface topology to be grouped according to contiguous regions bounded by edges.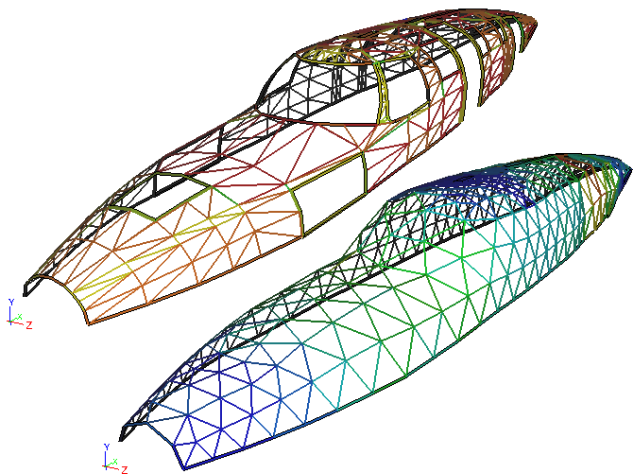 Faceted Fuselage: Original faceted fuselage on the left and a simplified topology with analysis mesh on the right
By processing the facets it is possible to recover the contiguous topology and thus proceed with a CAE simulation as if the facets are the same as native CAD geometry. However, one further enhancement is usually necessary to make the recovered topology better suited for simulation, and that is the joining or merging of adjacent surfaces and edges. These localized joining operations suppress irrelevant small features that would otherwise require a disproportionate amount of computational resources to model compared to their importance in the overall simulation.
Give it a Go
So if your modeling requirements are driven by a need for stunning visuals, maybe for a personalized greeting card, why not give faceted models a try? I guarantee that there are faceted models out there that will satisfy your needs.