Failure to Simulate
Submitted by Richard Smith on September 26, 2013 - 13:40
Given the availability of Computer Aided Engineering (CAE) analysis tools, such as Computational Fluid Dynamics (CFD), it is a surprise that analysis tools are not used more by architects during building concept design, especially relative to the local environment around a building.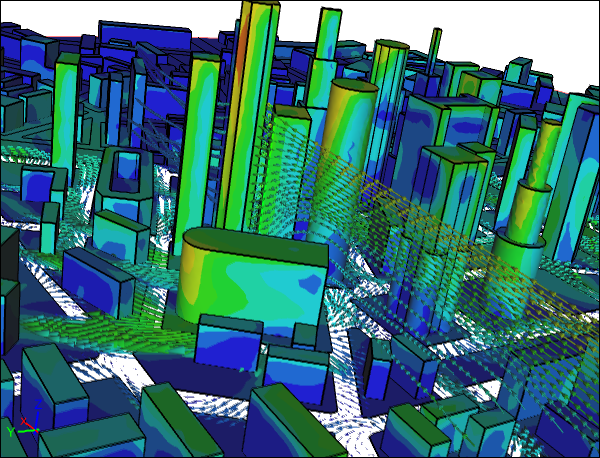 CFD Simulation of SkyscrapersAir Velocity Vectors
I say this because it is not evident that environmental analyses were performed on London's latest skyscraper, nicknamed the 'Walkie-Talkie', otherwise there wouldn't be cars melting due to the focused sun rays reflected off the concave all-glass exterior.
Neither is there evidence that for Yorkshire's tallest building, Bridgewater Place, designers performed an analysis of the air flow around the building. There's a good chance that such an analysis would have predicted the concentrated localized winds around the building and forced a design change that would have avoided a number of injuries and one tragic death.
I doubt it is a lack of funds preventing environment analysis given the huge cost of skyscraper construction. Maybe it falls to planners to hold architects to a clause, such as 'do no harm' to the surrounding environment and inhabitants, with specific mention to consider localized wind speeds and ground level temperatures due to sun reflection.
The options to mitigate the impact of a building on the surrounding environment are severely limited and extremely costly once a building is complete. Clearly this is a scenario where expanded concept design analysis is a must.