Greenbird: World Land Yacht Speed Record Contender
Submitted by Richard Smith on September 8, 2008 - 14:26
Wind power, with its green credentials, is a primary force in our attempt to reduce our reliance on fossils fuels in order to reduce global warming. The majority of effort to exploit wind power is focused on converting its energy into electricity. However, if you are willing to live on the edge you'll find examples of wind energy used directly to power land-based vehicles, and very quickly in Greenbird's case - a world land yacht speed record contender.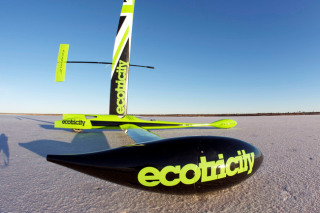 GreenbirdImage courtesy of Greenbird
While you are unlikely to see wind-powered cars any time soon on public roads there are recreational enthusiasts who are harnessing wind power for competition, speed and fun.
Land yachts - not to be confused with the gas guzzling behemoth variety, but the dry land equivalent of sail boats - have kept enthusiasts enthralled since Ancient Egyptian times. Modern land yachts come in all shapes and sizes with associated competitions and speed records.
Having built one of the largest land yachts ever, a British team led by Dale Vince (of Ecotricity) and engineer Richard Jenkins will soon (weather permitting) attempt to break the current world land yacht speed record of 116 mph (187 km/h). Their vehicle, named Greenbird, uses a rigid main wing mounted vertically instead of a traditional fabric sail to drive the vehicle. Greenbird is constructed from light-weight, but extremely strong, composite materials similar to those used in Formula 1. Greenbird also uses inverted airfoils to provide downforce to ensure it remains grounded, again borrowing from Formula 1.
The unique main wing generates lift (in the direction of motion) with minimal drag, which in theory can propel Greenbird at 3-5 times the prevailing wind speed. For their record attempt they need a large, flat and windy area. The Greenbird team favored the salt flats of Lake Lefroy, Australia in September 2008, but they were thwarted by rain in their record attempt. The team is now considering another attempt at salt flats in the US, possibly in March 2009.
I guess the failed record attempt by Greenbird just goes to show that the weather can be unpredictable and highlights why solely wind-powered land vehicles are likely to remain the preserve of dedicated enthusiasts.