Is CFD Flawed?
Submitted by Richard Smith on April 29, 2011 - 09:30
There is a high profile debate going on in the motor racing media and motor racing discussion forums that Computational Fluid Dynamics (CFD) is flawed. The proof cited is the poor performance of Virgin Racing (VR) Formula 1 racecars in the 2010 F1 championship and repeated so far in this year's championship. Why is CFD deemed responsible for this sorry state of affairs? Because VR have proclaimed that the aerodynamic design of its cars forgoes wind tunnel testing and only uses CFD. What if the CFD-only strategy is merely a symptom rather than the cause of the problems at VR?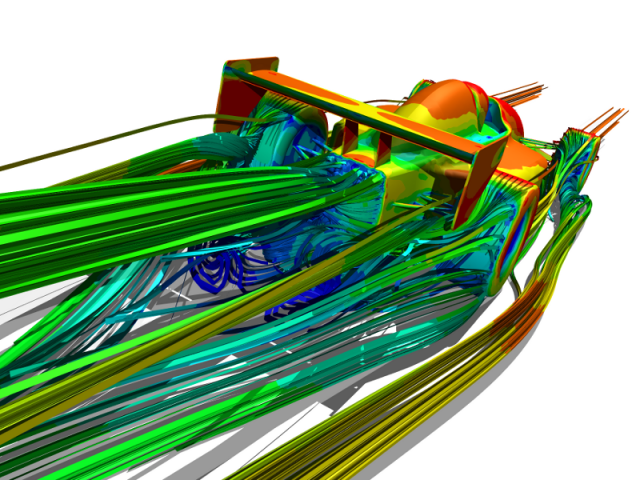 Is CFD Flawed?
Background
VR entered F1 in 2010 with the stated aim of working within a self-imposed budget cap (around US$60 Million), whereas other established teams continued with their high spending ways - reputed to be in excess of US$400 Million in one case. To be fair the provisional F1 rules issued in 2009 for the 2010 season included a budget cap which Manor Grand Prix Racing (later becoming VR) signed up for. However, money does indeed talk and no less so in F1 - the big teams vetoed the budget cap. This left VR with a dilemma - withdraw or continue with a puny budget. It chose the later.
CFD or Wind Tunnel
Like any cost-conscious company concerned with aerodynamic design VR looked to CFD as a cost-effective method to design their racecars. Where they departed from the F1 norm is that they decided to use only CFD for aerodynamic design, and forgo wind tunnel testing completely. Most F1 teams (and certainly the successful ones) have dedicated wind tunnel facilities that come with hefty building and running costs. Also all F1 teams have dedicated High Performance Computing (HPC) centers for running CFD. A traditional F1 team is the perfect model for CFD working in complimentary harmony with wind tunnel testing. Now in VR's position what would you do? Spend your entire budget on building a wind tunnel with nothing left for anything else? Or forego the wind tunnel and bulk up your CFD capabilities leaving enough money to go racing? Exactly, so with its CFD-only strategy and restricted budget VR went racing.
Results
The 2010 F1 season was not kind to VR, resulting in no championship points and many retirements. A mid-season redesign was needed after it turned out that the racecar's fuel tank was too small to finish races under full power. So far the story of the 2011 season has followed a similar script with the team struggling to qualify within the re-introduced 107% cutoff relative to the fastest qualifier.
Cause = Lack of Money, Symptom = CFD Only
It's easy to blame CFD for all the troubles of VR. But surely its CFD-only strategy is merely a symptom of the real problem: money or more accurately a lack thereof. It appears, over the long run, the better funded sports teams tend to be successful and conversely the poorer funded teams tend to struggle. In F1 that means the better funded teams have the best facilities, employ the best engineers, attract the best drivers, and so on. I believe VR is simply another example of this fundamental law linking sports finance to results.