Miniature Turbines Whirl in a Watch
Submitted by Richard Smith on December 12, 2012 - 09:43
Remember the "Fluid Wrist Watch for a Fluid Dynamicist?" Well I've come across another watch for the horology-obsessed fluid dynamicist - the Urwerk UR-202 AlTiN [source: Forbes].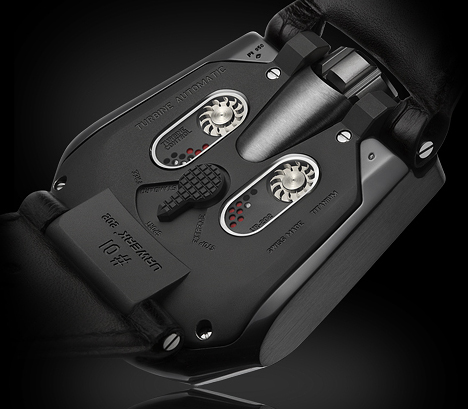 Urwerk UR-202 AlTiNMiniature turbines to damp winding weight
The Urwerk uses twin miniature turbines, visible on the back of the watch, to regulate the automatic winding mechanism. The spinning turbines use air resistance to damp the motion of the oscillating winding weight in order to avoid wild swings.
The Urwerk plays a staring role in the new Jackie Chan film Chinese Zodiac (released today, 12/12/12) on the wrists of the good guys. Only in the movies would you see a US$165,000 watch in full contact karate moves. In the real world the watch likely lives in its own high security palace and doesn't get out much.