New F1 Team Uses CFD Only
Submitted by Richard Smith on January 3, 2010 - 17:21
As the 2010 Formula 1 (F1) season approaches, excitement is mounting as a new batch of teams enters the ring. One such team - Virgin Racing (VR) - is hitting the headlines with their radical approach of only using Computational Fluid Dynamics (CFD) to test and develop the aerodynamics of their car.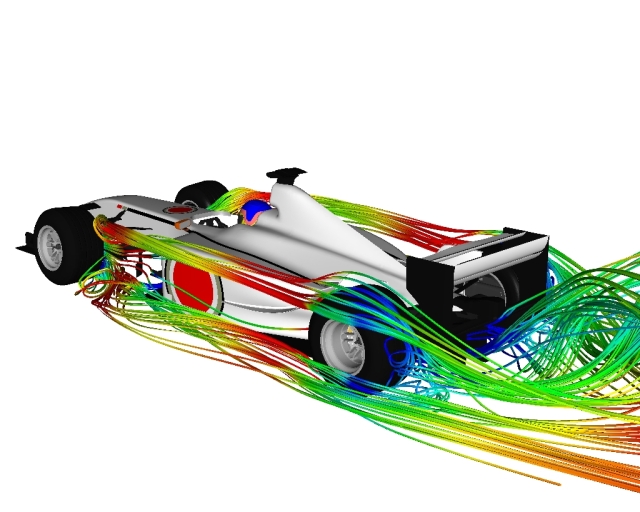 F1 CFD SimulationSymscape does not hold the copyright on this picture
Nick Wirth, the technical director of the VR F1 team, has extensive knowledge of CFD through his consultancy business (Wirth Research), which has helped develop a number of racing cars using CFD as the primary aerodynamic analysis tool. He has also worked with the FIA performing CFD analysis on the controversial Centre-line Downwash Generating (CDG) wing concept.
What does "uses CFD only" mean? Wirth is really saying that given the resources he has available - mainly sponsorship money from Richard Branson's Virgin group to the tune of US$65M/year (which is minimal by F1 standards, when you consider that Ferrari is rumored to have spent US$415M in 2008) - CFD is the most cost effective aerodynamic analysis tool available. Most leading F1 teams, such as McLaren and Ferrari, use wind tunnels in combination with CFD to analyze their cars. However, wind tunnels are extremely expensive to build and run, even when compared to the high prices charged by the big CFD vendors - though the truth is that many F1 teams reduce their software costs significantly by having joint marketing deals with these CFD vendors.
I'm sure if VR had a budget that allowed for wind tunnel testing they would use it along with CFD. However, Branson has deliberately set VR's budget to the lowest level of any F1 team, and it will be interesting to see how they compare with the F1 establishment. This experiment, if successful, could serve as a great testament to the advances that CFD has made since its introduction into F1 in the early 1990s. Or if unsuccessful it could serve as another reminder that CFD is most effective as a complimentary component to physical testing. The great thing about F1 is that we won't have to wait long to get an answer, given the rapidly approaching new 2010 season - the first race is the Bahrain Grand Prix on March 14th. Hold onto your hats.