Open or Closed Source Software
Submitted by Richard Smith on September 22, 2009 - 12:56
Raised eyebrows are the norm when people realize that I have developed a Closed Source Software (CSS) application by integrating a number of Open Source Software (OSS) systems. Before we explore the Symscape business model, keep in mind that everyone needs shelter, food, and health-care, i.e., even software developers need to be paid.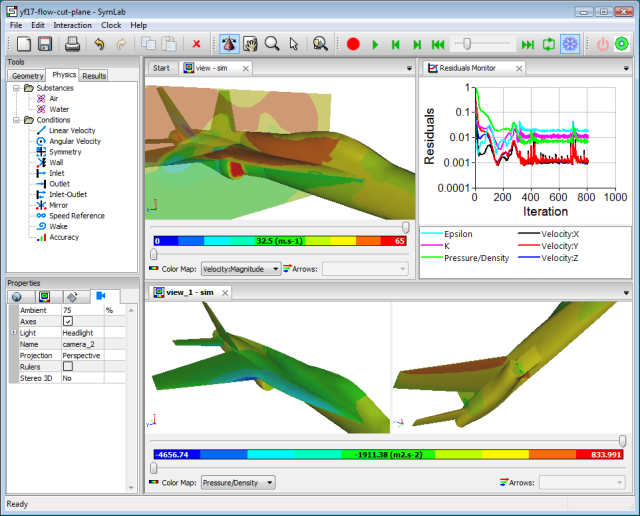 Caedium: State-of-the-art 'plumbing'
Most of the development I do within Caedium is system integration - some consider it mundane, unexciting plumbing. Cross-platform simulation environments, such as Caedium, while sounding grandiose, just don't cut it compared to a moving in-cylinder combustion simulation - at least in the circles I move in. Yet the need for an easy-to-use and affordable Computer-Aided Engineering (CAE) simulation environment is genuine - judging by the interest in Caedium - it's just that no one wants to pay for its development upfront. Further, there aren't many software developers (if any) willing to donate their time in support of such mundane activities either. So the idea of starting an OSS project to develop Caedium didn't seem like an option when I started out.
Instead I have invested 6 years developing a state-of-the-art plumbing system supporting CAE simulations such as Computational Fluid Dynamics (CFD). Hopefully this effort is not in vain and, judging by the enthusiastic support I've received, it isn't.
Now the question moves on to whether, now that I have a working system, I should release it as an OSS project. I still don't believe that there's a viable community of developers willing to help develop such a system - nothing has changed - it's still mundane, unexciting plumbing. Another alternative source of development for OSS projects is research grants, but no one is likely to receive funds to 'merely enhance' a unified simulation environments that transcends many disciplines.
The main benefit of OSS - that of an enthusiastic development community - just isn't likely to happen for Caedium. Essentially then Caedium would be a free (as in free beer) OSS project rather than a free (as in freedom) OSS project - meaning I'd have to get a day job with little, if any, time for further Caedium development.
Based on the arguments presented here, I think the most efficient way for Caedium to advance is through the support of a user community willing to pay yearly subscriptions. So for the foreseeable future Caedium will remain CSS, but there are benefits:
The plumbing will get better and better
I'm the only one who has to deal with the tedious compiling and integration of disparate software systems on multiple platforms
Given enough interest or requests I can fund specific development of the OSS projects Caedium uses and, where applicable, contribute directly through developments such as OpenFOAM on Windows