Origins of the Commercial CFD Industry
Submitted by Richard Smith on January 8, 2008 - 10:33
Some may remember the 1980s for its over-the-top fashion (think big shoulder pads), even bigger hair styles, action movies (who can forget The Terminator?) and the Gordon Gekko greed is good mantra. Others will remember the introduction of personal computers - a "dent in the universe" to quote Steve Jobs of Apple. A few may even remember that the origins of the commercial Computational Fluid Dynamics (CFD) software industry can be traced to a small number of pioneers in the 1980s. If you are one of the few then maybe you'll find this post on the origins of commercial CFD will stir a few fond memories.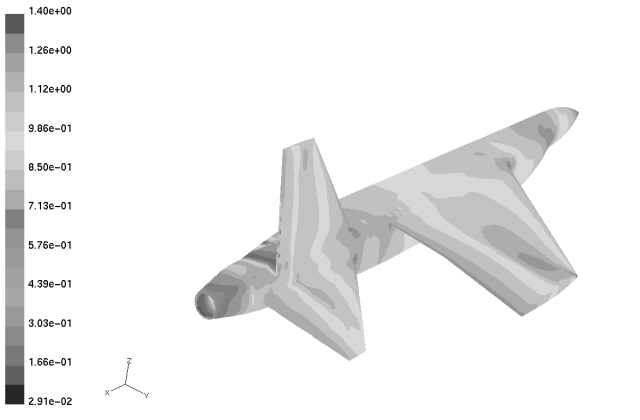 Rampant Results: Appeared in my EngD thesis
CHAM
Brian Spalding became a leading light in the nascent field of CFD when in 1972 he, along with his Imperial College colleague Brian Launder, proposedpopularized (see comment on k-epsilon credit) the k-epsilon turbulence model for industrial uses. The k-epsilon model is still in wide use today. Spalding capitalized on the interest generated by his work by founding Concentration Heat and Momentum Ltd (CHAM) in Wimbledon, England in 1974. CHAM initially developed and sold niche CFD codes to industry. Maintaining multiple CFD codes was proving troublesome, so in 1980 CHAM begin to consolidate the functionality of its many codes into a single one called Parabolic Hyperbolic Or Elliptic Numerical Integration Code Series (PHOENICS). PHOENICS was launched in 1981 - the first commercial general-purpose CFD package. Its initial capabilities were:
Structured hexahedral elements
Steady/unsteady
Compressible/incompressible
Laminar/turbulent
Chemically-inert/reactive
Single-phase/two-phase
Source: The origins of PHOENICS
creare.x (Fluent)
At the same time Spalding released PHEONICS, a group of researchers at Sheffield University in England, led by Jim Swithenbank and including future Fluent President and COO Ferit Boysan, were developing CFD combustion codes. Their work came to the attention of Bart Patel of Creare. Creare was then and still is now a technology consultancy and incubator based in Hanover, New Hampshire, USA. At Patel's suggestion Swithenbank's team developed a general-purpose CFD package called FLUENT, released in 1983 with the following features:
Single block, structure hexahedral elements
Steady state
Laminar/turbulent
Heat transfer
Combustion
Dispersed phase
Natural convection
Another Creare employee, Wayne Smith, received Phase 1 SBIR funding (US$50K) from NASA to assess the concept of "Multigrid Solution of Internal Flows Using Unstructured, Solution-Adaptive Meshes." After successfully proving the feasibility of such an approach, in 1987 Smith received Phase 2 SBIR funding (US$500K) to develop a prototype, with help from Ken Blake (meshing expertise) and Chris Morley (interface and graphics expertise). Upon completion of the SBIR, Smith and his team transferred to Patel's group to commercialize their software. The results were released in 1991 as Rampant (solver) and TGrid (tetrahedral mesher) - the first general-purpose, unstructured CFD package targeted at compressible aerospace applications.
Patel subsequently formed a new company creare.x to develop and sell FLUENT and Rampant. creare.x was renamed Fluent in the early 1990s.
Sources:
FDI
Fluid Dynamics International (FDI) was co-founded by Michael Engelman (a faculty member of the Illinois Institute of Technology) and Simon Rosenblat in Evanston, Illinois, USA at about the same time as Patel began marketing FLUENT. Engelman was initially the primary developer of their general-purpose finite-element CFD package called FluId Dynamics Analysis Package (FIDAP).
Source: FEA Information (pdf)
CD
David Gosman, another Imperial College alumni and professor, co-founded Computational Dynamics Limited (CD) in London, England in 1987. Gosman's research interests focused on extending the finite-volume solution technique to unstructured moving meshes. CD developed STAR-CD, another general-purpose finite-volume CFD package.
Source: 17th Annual HP Symposium on Technology Trends in Computational Engineering
AEA
The UK Atomic Energy Authority (AEA) in Harwell, England developed CFD for internal (to AEA) use on nuclear simulation applications. In the late 1980s AEA released a general-purpose version of their CFD package called FLOW3D. Initially FLOW3D catered only for multi-block structured hexahedral elements - as did most of the early commercial CFD packages.
Source: CFX
Flow Science
Another CFD package with origins in the nuclear industry was FLOW-3D (not to be confused with AEA's original CFD package FLOW3D) from Flow Science in Santa Fe, New Mexico, USA. Tony Hirt, from the Los Alamos National Laboratory, founded Flow Science in 1980 and released its first general-purpose CFD package in 1985. Hirt is credited with inventing the Volume Of Fluid (VOF) technique to deal with free surface flows, such as water sloshing in a tank.
Source: Flow Science Profile
Where Are They Now?
The early pioneers (both people and companies) of the commercial CFD software industry can still be found - if you know where to look. Some companies have survived intact, such as CHAM, while others, such as FDI, disappeared through mergers. The evolution of these original commercial CFD vendors is a story we will cover in a future post on this blog - be sure to check back to find out how things turned out.
Feedback
If you think the information here is incomplete or, worse still, inaccurate, please let me know through our contact form, or, better still, post your comments here directly.