Riblets: 400 Million Years in the Making
Submitted by Richard Smith on August 31, 2009 - 12:42
Sharks have been around for over 400 million years, pre-dating the dinosaurs by some 200 million years. 400 million years is quite a time to perfect the swift swimming skills that make sharks one of the most efficient predators on the Earth. But it's not only technique that makes sharks fast. Their slippery streamlined shape helps to minimizes pressure drag, and a specialized skin layer (dermal denticles) minimizes skin friction drag and serves as the inspiration for riblets.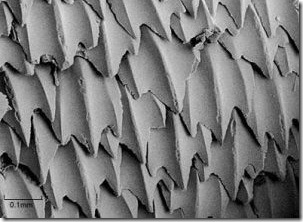 Shark Skin Up Close
It's a well known fact that streamlined shapes (e.g., airfoils) minimize pressure drag, when compared to say a sphere. However, it's only relatively recently that manipulating the surface texture of a streamlined object in the presence of a turbulent boundary layer was found to further reduce drag by reducing the skin friction drag.
Riblets are the embodiment of an artificial shark skin - a great example of biomimicry. 20 micron (20x10-3mm) grooves, or riblets, aligned parallel to the flow direction have proved effective in mimicking the skin friction drag reduction effect of shark skin. Riblets have been used on airliners, racing yachts and most recently swimsuits (with associated controversy). All these applications exhibit turbulent boundary layers (high Reynolds numbers) over a substantial portion of their surfaces.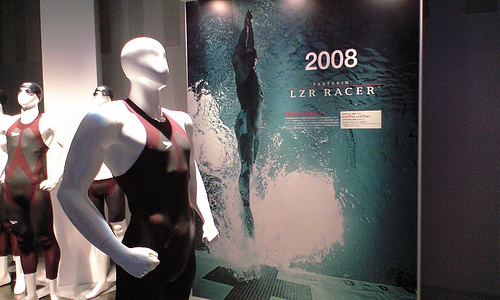 Speedo LZR Racer Swimsuit Uses textured panels to reduce dragLicense: CC BY 2.0, Kazuhisa OTSUBO
The riblet effect is often confused with the effect caused by dimples on a golf ball. The dimples on a golf ball aim to reduce its pressure drag, as it travels through the air, by minimizing the inevitable recirculation (separation) zone behind the ball. The speed of a golf ball would naturally cause a laminar boundary layer to form over its surface, but by 'tripping' the layer to be turbulent the pressure drag is reduced. This is because a turbulent boundary layer tends to stay attached to a surface longer in the presence of an adverse pressure gradient than a laminar boundary layer. The presence of dimples on a golf ball actually causes an increase in skin friction, but the reduction in pressure drag more than compensates for it. Dimples on golf balls are of the order of 1mm in depth, whereas riblets are typically 50 times smaller.
So there you have it, riblets - 400 million years in the making, summarized in a couple of paragraphs.