Swimsuits Banned as 'Technology Doping'
Submitted by Richard Smith on July 27, 2009 - 08:42
FINA, the governing body of swimming, has banned the full-coverage, low-drag swimsuits that are credited with aiding swimmers in breaking nearly all the world swimming records in the last year or so. I discussed drag reduction and its application to swimming in the lead up to the Beijing 2008 Olympics, where the Speedo LZR Racer swimsuit was the garment of choice for all would-be champions. In Beijing all but a couple of the existing Olympic records survived the LZR clad swimmer onslaught. Records were not only broken - they were smashed by huge margins instead of following a relatively steady historical progression.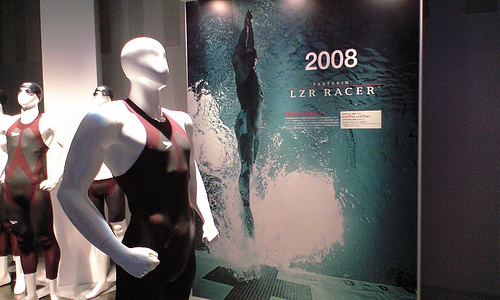 Speedo LZR RacerLicensed: CC BY 2.0, Kazuhisa OTSUBO
The latest evolution of the high-tech swimsuits were on display recently at the 2009 FINA World Swimming Championships - accompanied by another prolific round of world records. Clear progress was evident beyond the Speedo LZR Racer swimsuit of last year. The swimsuits, often referred to as technology doping, typically address three main performance areas:
Pressure drag is reduced by compressing a swimmer's body into a more streamlined shape
Viscous drag is reduced by providing a textured surface (as in riblets for yachts and shark skin)
Buoyancy is aided by trapping air within the swimsuit which enables a swimmer to be higher in the water and therefore focus their effort on horizontal propulsion
The new FINA rules, to take effect in 2010, specify that only textile suits with relatively minimal coverage will be allowed - which means that the full-coverage low-drag (even buoyant) polyurethane swimsuits are out. Swimming is now proposing to follow the same path that cycling adopted for the 1hr UCI record and that track and field adopted in the design of the javelin - i.e., effectively banning aerodynamic (fluid flow) optimization.
As a fluid dynamics fan and a sports fan this development has me torn. It's a shame that the full force of fluid dynamics technology can't be realized in the pursuit of sporting performance in swimming, as is the case with Formula 1 - though even in F1 there is the prospect of tightly limited wind tunnel and Computational Fluid Dynamics (CFD) testing. However, it is also a travesty when a simple sport, such as swimming, suddenly becomes an expensive, and therefore exclusionary, endeavor. If I had to choose, I think that FINA is finally heading in the right direction. So, for my fluid dynamics technology fix, I'll have to settle for cheering on optimizing the fluid flow over and through products, such as cars and airplanes, rather than on the sports field or in the pool. However, sports being sports, I'll bet the intersection of technology and competition isn't over.