Virtual Wind Turbine Breaks Betz' Law
Submitted by Richard Smith on January 29, 2008 - 08:18
Given the technological sophistication of today's wind turbines, it's quite humbling to think that their theoretical maximum efficiency was derived by wind turbine pioneer Albert Betz in 1920. Betz' Law, as it is now known, is a relatively simple proof that the maximum efficiency of a wind turbine, irrespective of its design, cannot exceed 59%. Still, some believe laws are there to be broken - at least in the virtual simulation world.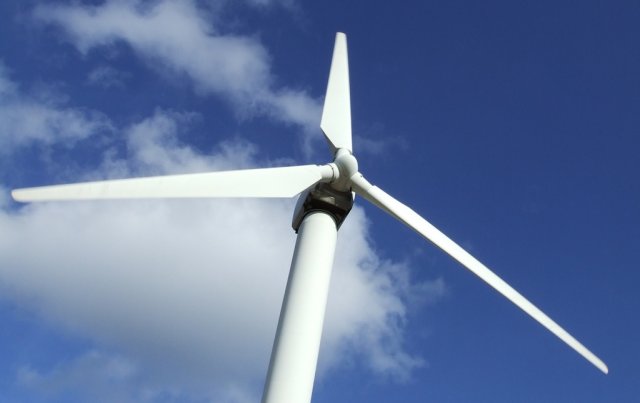 Horizontal-Axis Wind TurbineLicense: CC BY 2.0, Martin Laine
Betz' Law
The efficiency of a wind turbine is measured as the ratio between the energy extracted from the wind to perform useful work (e.g., electricity) and the total kinetic energy of the wind without the presence of a wind turbine. To understand the reasoning behind Betz' Law, consider a 100% efficiency, i.e., extracting all the kinetic energy from the wind and thus bringing the air to a standstill. The paradox of bringing the air to a stop means that there's no way for the air to drive a rotating machine, so no useful work can be extracted. Now consider the other extreme, i.e., the wind turbine doesn't reduce the wind speed at all. Again conservation of energy dictates that no useful work will be accomplished by the wind turbine. Clearly the maximum theoretical efficiency lies somewhere between these two extremes. Betz' Law simply and elegantly proves the maximum efficiency of a wind turbine can't exceed 59%.
The latest horizontal-axis wind turbines typically have efficiencies in the range of 35-40%, so clearly there's no conflict there between theory and practice. If electricity generators and distribution are taken into consideration, then efficiency drops to the 10-30% range.
Virtual Wind Turbine Simulation
A recent article entitled "CFD Modeling for Wind Turbines" cites efficiencies for a shrouded wind turbine way in excess of the Betz Law limit (shown by Figure 4 in the article). Straightaway this should be a cause for the kind of skepticism usually reserved for perpetual motion devices. Now, maybe Betz' Law is flawed and the researchers have found a loophole, or more likely, they have made a mistake in their calculations. To make such an extraordinary claim against a well-regarded theory requires extraordinary evidence. Their study is based on Computational Fluid Dynamics (CFD) calculations. I believe this is an excellent example of how not to use advanced Computer-Aided Engineering (CAE) tools, such as CFD.
Reality Check
CAE tools are only as good as the engineers and researchers that know when and where to apply them. Good practitioners know that when a simulation contradicts a well-proven law, such as conservation of energy, or in this case Betz' Law, there is likely a problem with their simulation and not vice-versa. It is relatively easy to use CAE tools to perform virtual simulations that have no real world equivalent. There are a number of reasons why a good simulation can turn bad:
Underlying assumptions of the tool and the physical models it supports are not met, for instance a linear stress analysis model is no use if the stresses are likely to exceed the elastic limit and make a material deform plastically
Specification of inappropriate boundary conditions and material properties can produce subtle inaccuracies in simulation results
Low fidelity (coarse mesh) model representation
Mistyped numbers or incorrect unit conversions can cause a simulation to produce results that are of by orders of magnitude
To at least recognize these problems it is essential that a practitioner has a good understanding of their physical problem domain, such that they know when a simulation is approaching the improbable. Oftentimes this would take the form of a low fidelity hand calculation (ballpark figure) to cross correlate a simulation result. The best CAE practitioners validate their CAE tools against similar, known test cases prior to applying it to a new case.
Lesson
So the lesson here is that you need to know your domain prior to picking up your CAE tool and not vice-versa. Then, when you find a simulation result that contradicts a physical law, you'll know it for what it is: a revolution in physics, or, most likely, a simple modeling mistake.