X-15 CFD Images on Postage Stamps
Submitted by Richard Smith on May 7, 2007 - 08:41
The United States Postal Service (USPS) on March 17, 2007 issued 2 stamps that feature Computational Fluid Dynamics (CFD) generated images of the North American X-15 rocket plane in flight.
NASA Langley Research Center performed the CFD calculations used to produce the images on the stamps. The aim of the CFD calculations, performed in the 1990s, was to demonstrate the ability to accurately capture geometry using laser digitizing technology for airflow simulation.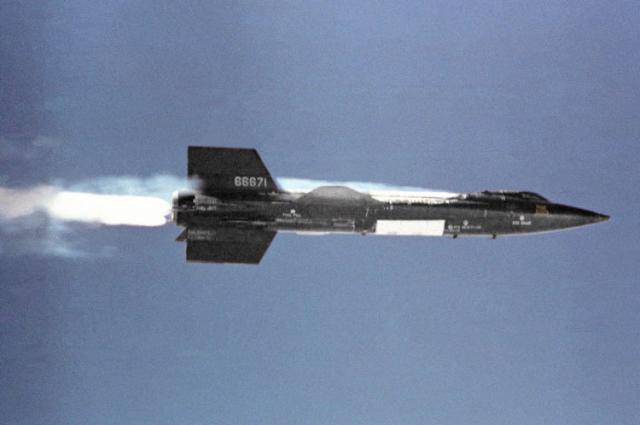 North American X-15 In FlightImage courtesy of NASA Dryden Flight Research Center Photo Collection
The X-15 was a hypersonic rocket plane launched from under the wing of a Boeing B-52 Stratofortress. During 199 flight in the 1960s the X-15 attained a maximum altitude of 67 miles (108 km) and a maximum speed of Mach 6.85 (4520mph, 7274km/h).
The X-15 served as the inspiration for SpaceShipOne, which won the 2004 X-Prize. SpaceShipOne and an X-15 now reside in the National Air and Space Museum's Milestones of Flight in Washington DC, USA.