CFD for Solar Panels
Submitted by symscape on February 1, 2011 - 19:54
Solar panels are solid-state, right? No moving parts and certainly no fluid flow - unless you count the rivers of electrons flowing in a semi-conductor. So what role is there for Computational Fluid Dynamics (CFD)? Once installed, how can you be sure that those brackets holding the panels in place are strong enough? Or even if your roof is strong enough to cope with the wind loading on the solar panels? Remain calm, CFD is here to help in the form of Caedium Professional.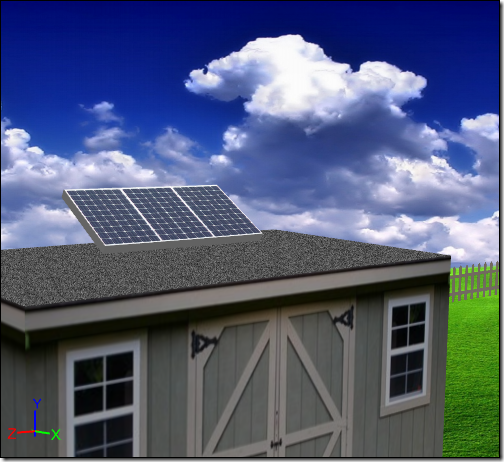 Solar Panel Mounted on a Shed Roof
Once a solar panel is mounted on a roof it has to withstand wind loading from any direction. The worst case scenario is a freak wind gust from behind an angled panel on a flat roof. Flat-mounted panels on flat roofs are not an option as they would only a limited exposure to the sun around noon, playing havoc with your breakeven calculations.
There are a few options open to you:
Wait for the freak wind gust and measure the forces directly on an installed solar panel - dangerous, unreliable and you could wait a lifetime for just the right wind gust.
Bolt the solar panel to the top of a moving van and drive it at the same test speed as your worst-case freak wind gust - reliable but dangerous (and illegal) for the driver and other users of the road.
Conduct a wind tunnel test - reliable, safe, and costly.
Perform a CFD simulation in the comfort of your office - reliable, safe, and inexpensive.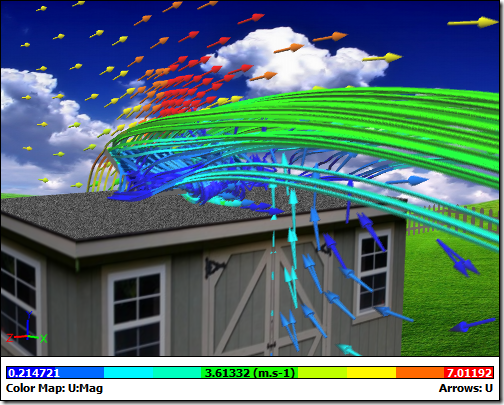 CFD Simulation of Air Flow Over a Solar Panel Mounted on a Shed Roof
Ideally you'd like to use a well documented wind tunnel test case to benchmark your CFD simulations. If such a case doesn't exist then it would be prudent to commission one.
What can you expect to gain from a CFD simulation performed by Caedium Professional?
You can predict forces, such as lift and drag, to lead the design of mounting brackets.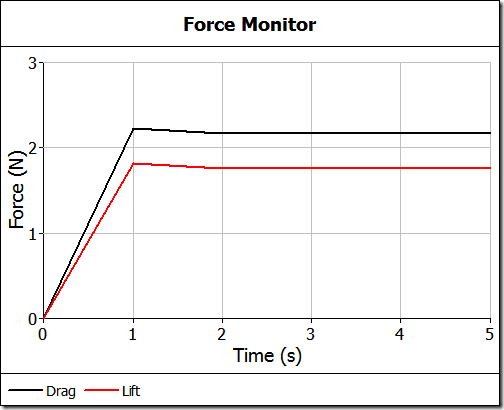 Lift and Drag Forces on Solar Panel
You can display velocity vectors, streamlines, and contours to visualize the air flow around the panels and to aid in their location on a roof.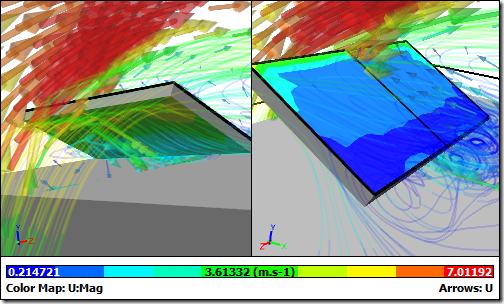 Velocity Vectors Colored by Velocity Magnitude, Streamlines, and Velocity Magnitude Contours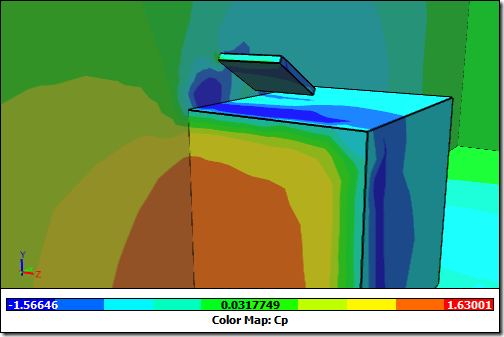 Pressure Coefficient Contours on Symmetry Plane and Surfaces
With trusted CFD results in hand, you are now free to design your solar panel mounts and locate the panels with confidence.