Blogosphere Embraces Caedium on the Mac
Submitted by symscape on March 22, 2010 - 12:44
The recent release of Caedium for the Mac has attracted a number of enthusiastic blog posts based on the theme that Mac OS X is becoming a viable and appealing Computer-Aided Engineering (CAE) platform.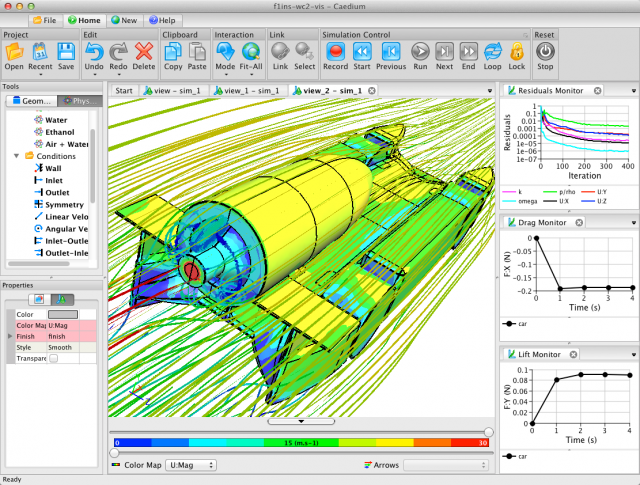 Caedium on the Mac
Kenneth Wong posted an article entitled "Fluid Dynamics Flowing into Mac OS" on his Virtual Desktop blog (hosted by Desktop Engineering), which mentioned Caedium's arrival on the Mac, along with EnSight CFD, as a sign of the renewed interest in the Mac as a platform for CAE software applications.
Darin McKinnis (VP of sales at CEI) posted an article entitled "New Mac CFD Product, Caedium" on his Viz Worth Watching blog, which highlighted the Mac version of Caedium as an affordable CFD learning tool, as well as a complimentary product to their CFD post-processor EnSight CFD that is also available as a native Mac application.
During his coverage of the 2010 Macworld Expo, David Morgenstern posted an article entitled "Engineering: The Mac is back" on The Apple Core blog, which pointed out that engineering applications are making a comeback on the Mac by offering Caedium and EnSight as examples.
In a post entitled "Caedium cross-platform CFD (from free to pro)" on his CAD & 3D blog, Stefan Boeykens Leuven drew attention to the Caedium free viewer and the impressive cross-platform nature of Caedium with versions for Mac, Windows, and Linux.