Caedium Bursts CFD to the Cloud
Submitted by symscape on June 13, 2011 - 11:19
In collaboration with Microsoft, Symscape has developed a 'burst to Windows Azure' capability for the next release of Caedium (v3) running on Windows HPC Server 2008 R2 SP1. The new feature will allow Caedium users to better optimize their designs by performing more CFD simulations unbounded by on-premises hardware limitations thanks to the elastic resource scaling of the cloud-based Azure service.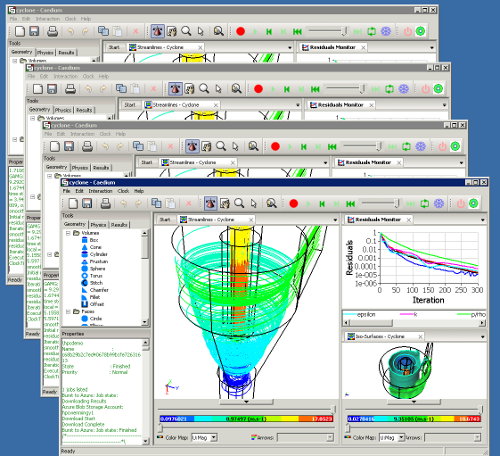 Multiple Caedium CFD Simulations Bursting to Azure
"We feel 'bursting' to Windows Azure is a strategic move that helps put our tools into the hands of businesses that can benefit from CFD [computational fluid dynamics] capabilities but have struggled to get them," said Symscape Principal Richard Smith.
The associated Microsoft case study "Software Vendor Expands Computational Fluid Dynamics Reach by Adding Cloud" summarizes the new Caedium 'burst to Windows Azure' capability as follows:
"Symscape, a developer of computational fluid dynamics (CFD) software, wanted to expand its customer base by making its CFD system even more affordable. The company used 'burst to Windows Azure' functionality as part of the Windows HPC Server 2008 R2 SP1 operating system to offer nearly instantaneous scalability without significant up-front costs, making it possible for smaller manufacturing organizations to take advantage of CFD capabilities."