Enhanced CFD Simulations with Conjugate Heat Transfer and Passive Species Transport
Submitted by symscape on April 25, 2019 - 08:07
The highlight of the latest Caedium (v6.0) release is an enhanced Computational Fluid Dynamics (CFD) heat transfer capability with multi-domain support for fluids and solids, known as Conjugate Heat Transfer (CHT). Also Caedium can now simulate the dispersal of secondary species (e.g., smoke or dye) in a primary fluid, known as passive species (or scalar) transport.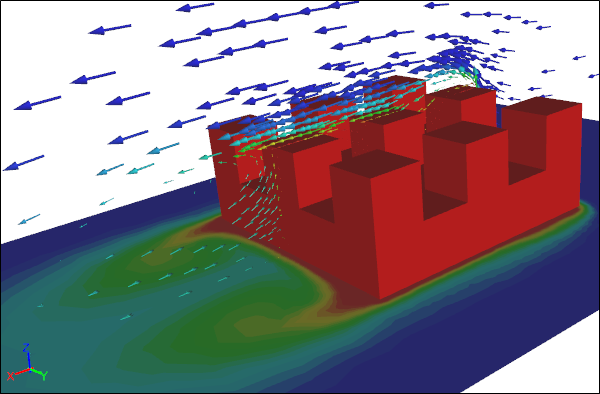 Conjugate Heat Transfer (CHT) Through and Around a Heat Sink
Simulation shows air vectors and floor colored by temperature
Request and activate a free 30-day trial to enable Computational Fluid Dynamics (CFD) software simulation in Caedium.

Conjugate Heat Transfer
CHT models the heat transfer through a solid or shell, coupled with a fluid at shared boundaries. Applications include:
Electronics cooling, e.g., chip cooling with heat sinks
Heat exchangers in various industries, e.g., automotive, aerospace, power generation, oil and gas processing
CHT simplifies the specification of heat transfer between a wall and a fluid. Instead of having to define a heat flux on a fluid wall you can now just specify the heat flux on the external wall of a solid (e.g., heat sink) or another fluid (e.g., water-air heat exchanger). Then CHT automatically simulates the heat transfer through the heat source and into the coupled fluid.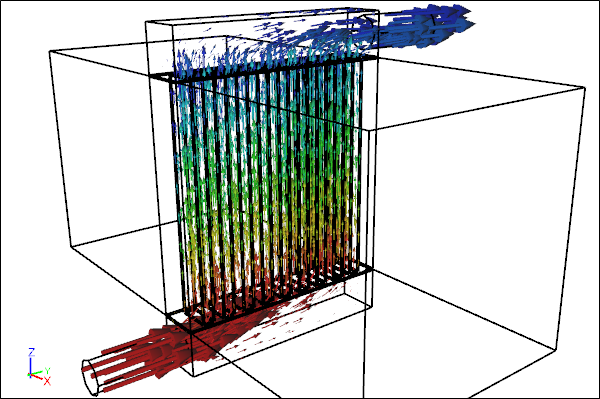 Water-Air Heat Exchanger
Simulation shows water vectors colored by temperature
Passive Species Transport
A passive species can represent and track additions such as smoke in airflow and dye in water. It can also provide insights on the dispersion of pollutants carried by a fluid. Since it is passive, the species has identical physical properties to the primary simulation substance and does not react with it. A passive species is similar to massless particles (streamlines) except instead of being released at discrete points, the passive species behaves as a continuous field like temperature.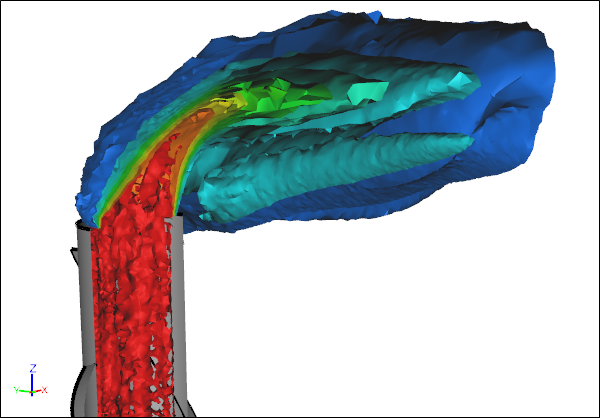 Passive Species Released in a Helix-Fluted Chimney
Simulation shows a clipped image of iso-surfaces for a released species
Subsystem Update
Realize faster and more robust operations with major updates to all the Caedium subsystems: Open Cascade, OpenFOAM®, VTK, and wxWidgets.
OpenFOAM is a registered trademark of OpenCFD and is unaffiliated with Symscape.