April 2011
Submitted by symscape on April 11, 2011 - 12:18
Ready for another sneak peek at the next Caedium (V3) release? Great, then you have come to the right place. Have you seen our new CFD Emporium and wonder what it is all about? Doubly great, you are still in the right place! Also I have the usual teasers from my recent blog posts, including a special April Fools' post - were you fooled?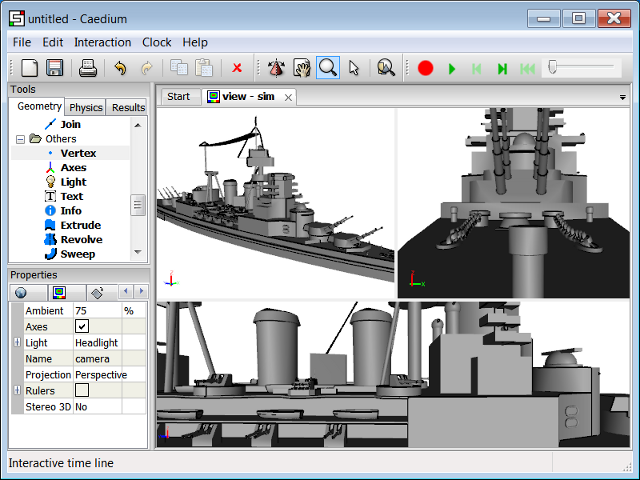 Caedium COLLADA Import Sneak Peek
Caedium v3 Sneak Peek: COLLADA Import
The next release of the Caedium Professional and Exchange add-ons will be able to import the COLLADA faceted format. Notably COLLADA is exported by Google's SketchUp - a popular faceted modeling tool.
CFD Emporium
Ever wondered where to find CFD consultants to help you with your CFD projects? Well the CFD Emporium is a new forum we introduced recently to help match projects to consultants and vice versa. Whether you are a CFD consultant offering CFD services or have a CFD project in need of a consultant, then the CFD Emporium is a great place to post and meet up.
Blog
Below are teasers for my latest blog posts.
Wind Turbine Comparison Study
In an effort to offset electrical load and decrease its carbon footprint, the city of Reno, Nevada is investigating various types of wind turbines (and photovoltaic solar cells too). Read more >>
Computational Fluid Dynamics News Network
We are pleased to announce the launch of the Computational Fluid Dynamics News Network - CFDNN - the world's first 24/7 TV channel dedicated to all things CFD. Like other 24 hour news shows, CFDNN will provide an addictive mix of news, technology, weather, entertainment, gossip, opinion, movies, and sports, but all viewed through a CFD prism. I guarantee you'll never have seen anything like it. Read more >>
Modeling Traffic and Crowd Flows
What do traffic and crowds have in common? I'll give you a hint - they both flow. In fact they flow so much that the same governing principles at play in fluid flow can also be extended to simulate traffic flow and the motion of dense crowds. Read more >>
Electric Vehicle + Wind Turbine + Kite = Wind Explorer
What do get if you cross an electric vehicle with a wind turbine and a kite? The eco-friendly car Wind Explorer. Dirk Gion and Stefan Simmerer, the brains behind Wind Explorer, recently caught the attention of Popular Science and others when they successfully drove 5,000 km across Australia in their one-of-a-kind car. Read more >>
Jetpacks Revisited
Long time readers might remember when I covered jetpacks way back in August 2007. Also you might remember from that post that the jetpack, or rocket belt as it was originally known, hasn't really progressed much since it first flew (more like a 30 second hop) in 1961. It turns out that designing a flying machine compact enough and light enough to be worn as a backpack is a non-trivial - nay, near intractable - problem. Clearly lateral thinking is required, and that is exactly what the designers of the Jetlev Flyer employed to produce a water-powered jetpack. Read more >>