August 2009
Submitted by symscape on August 17, 2009 - 15:52
Ready for another Caedium RANS Flow add-on progress report? Well here you go - read on for my monthly report on the highly anticipated next Caedium release. Also I'm back on schedule with my blog posts, adding one a week.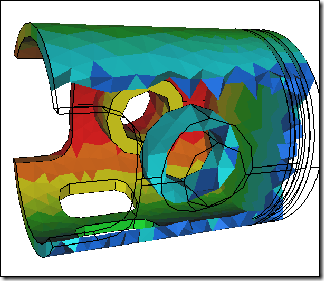 Tetrahedral Volume Mesh
Caedium RANS Flow Add-on Progress
I've completed the planned updates to the triangle and tetrahedral meshing tools I mentioned in our previous newsletter. Also I've added some mesh-element quality metrics for color-map visualization. These improved mesh tools should now be capable of dealing with more complex geometry and produce higher quality mesh elements ready for the volume-based solvers in the Caedium RANS Flow add-on.
OpenFOAM, from OpenCFD, was recently updated from 1.5.x -> 1.6.x and so I am now busy updating the Windows OpenFOAM cross-compiler patch. Next I need to make some minor modifications to the RANS Flow add-on to accommodate the new OpenFOAM 1.6.x changes and then it will be Caedium v2 release time - not long now.
Blog
Below are teasers for my latest blog posts.
Science Museum: Formula 1
It's rare to find a recent Formula 1 (F1) car in a public museum, even rarer is to see an F1 car hanging upside down from the ceiling, yet you'll find both at the London Science Museum. Finally I'm at the end of my Science Museum grand tour - though it only took an afternoon in real time, it has spawned weeks worth of blog posts and covered a century of innovation - spanning computing, rockets, VTOL, British WWII Airplanes, wind tunnel models and now F1.
Read more...
Science Museum: World War II Airplanes
On my recent visit to the London Science Museum, amongst computing, rockets and VTOL exhibits, I also came across some historic British airplanes in the Flight Gallery. In this post I'll focus on the World War II era airplanes that played a pivotal role in defending the skies above Britain.
Read more...
Swimsuits Banned as 'Technology Doping'
FINA, the governing body of swimming, has banned the full-coverage, low-drag swimsuits that are credited with aiding swimmers in breaking nearly all the world swimming records in the last year or so. I discussed drag reduction and its application to swimming in the lead up to the Beijing 2008 Olympics, where the Speedo LZR Racer swimsuit was the garment of choice for all would-be champions. In Beijing all but a couple of the existing Olympic records survived the LZR clad swimmer onslaught. Records were not only broken - they were smashed by huge margins instead of following a relatively steady historical progression.
Read more...
Science Museum: Wind Tunnel Models
In the days prior to Computational Fluid Dynamics (CFD), wind tunnel testing was the primary method for assessing the performance of airplanes prior to actually building them. On my visit to the London Science Museum I noticed a number of wind tunnel models of historic significance that I'll share with you here.
Read more...