December 2009
Submitted by symscape on December 20, 2009 - 12:56
It's been a blockbuster month full of action here since the big release last month. The headline news is that we renamed SymLab to Caedium - if you want to find out why and catch up with other developments, then keep reading.
Caedium Replaces SymLab
We have renamed SymLab to Caedium after a request from the trademark holder of Symlabs. Functionally Caedium is identical to SymLab. Read more
AIAA ASM 2010 Conference
Date for your diary: 48th AIAA Aerospace Sciences Meeting, Orlando, Florida, January 4-7, 2010. I'll be presenting Caedium: A Unified Simulation Environment (AIAA Paper Number: 2010-1322) during session MVC-3 Simulation Environments and Data Processing.
World's First: Caedium's CFD Simulations Tweet Telemetry
We have released a new version of Caedium (v2.0.1), which includes the world's first automated simulation telemetry system for posting images to TwitPic and posting associated messages (tweets) to Twitter.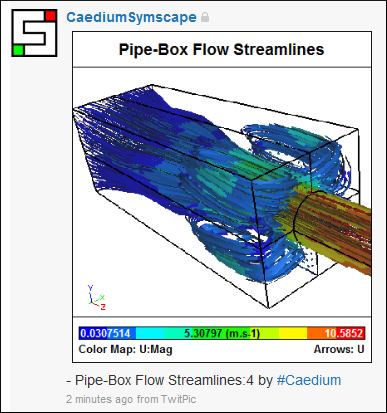 TwitPic Posted by Caedium and Viewed in the Power Twitter Firefox add-on
This new feature is useful if you want to check on the progress of a Computational Fluid Dynamics (CFD) simulation while you are away from your simulation's host machine and you have access to Twitter. It is also a great way to share CFD simulation progress with other colleagues on Twitter in real-time. Read more
Caedium RANS Flow Exports Results to EnSight, Fieldview, and Tecplot 360
Caedium RANS Flow can now export results in file formats supported by popular 3rd party visualization tools. Read more
Cyclone Separator Example
Cyclone separators are used in many industries to separate particles from a fluid, where the fluid is usually air or water. The types of particles vary widely, from wood chips to dust. You can find cyclones in a variety of places and industries. Read more
Flow Over a Rotating Wheel with Moving Ground Tutorial
Simulate an incompressible, steady-state, turbulent flow over a rotating wheel with a moving ground plane. View velocity vectors and velocity magnitude color maps, and monitor lift and drag forces. Read more
Happy Holidays and Happy New Year
Lest we forget, it's also holiday season, so take a little time off to enjoy the festivities - we'll try to relax a little too.