February 2008
Submitted by symscape on February 13, 2008 - 17:20
For all those Linux users out there who are keen to try Caedium, the wait is over. The latest release of Caedium is now available on both Windows and Linux. For everyone else, Caedium v1.2 contains a number of enhancements.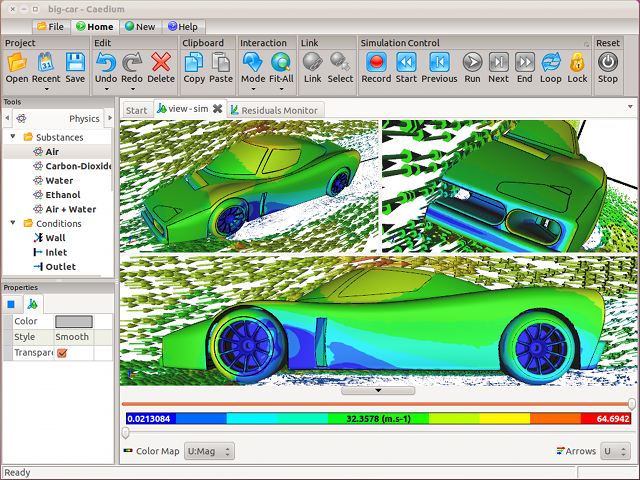 Caedium on Linux
Caedium v1.2
You'll find more details about the new features in "Caedium v1.2 Released for Linux and Windows" and an update for existing Caedium users in the Caedium forum.
Highlights of the new release include the ability to:
Arrange multiple geometry views alongside multiple plots with our new multi-pane window layout manager by simply dragging and dropping windows within the main Caedium workspace area.
Create avi movies from a sequence of time-dependent geometry views or plots using our new movie recorder using either Caedium Transient or Caedium Professional add-ons.
If you haven't yet tried Caedium Professional, and you are tempted by these new features, then we suggest you:
Download the latest version of Caedium and its add-ons for your preferred platform
Activate a 30 day free trial of Caedium Professional
You won't be disappointed.
New Article
We've added an article to our website about geometry exchange, which describes various ways to share geometry between Computer-Aided Engineering (CAE) systems, such as Caedium.
Blog
Below are teasers for our latest blog posts. Click the titles to read the entire post.
Build Your Own Paper Rocket
"What's the fastest way to become a commercial space millionaire? Start as a commercial space billionaire." So goes the joke in the space industry, and some billionaires are putting this theory to the test, as I covered in "Just For Fun: The New Space Race." But if you are missing the billions and just want some inexpensive rocket fun, then consider a more earth-bound air-powered paper rocket.
The Linux Desktop and Computer-Aided Engineering
Is the Linux desktop ready for Computer-Aided Engineering (CAE)? Or, more aptly, is CAE ready for the Linux desktop?
Virtual Wind Turbine Breaks Betz' Law
Given the technological sophistication of today's wind turbines, it's quite humbling to think that their theoretical maximum efficiency was derived by wind turbine pioneer Albert Betz in 1920. Betz' Law, as it is now known, is a relatively simple proof that the maximum efficiency of a wind turbine, irrespective of its design, cannot exceed 59%. Still, some believe laws are there to be broken - at least in the virtual simulation world.
Future of Commercial CFD
Having covered the Origins of Commercial CFD and the Evolution of Commercial CFD it seems only fitting that I stick my neck out and provide predictions on the future of CFD. Let's start by extrapolating from recent events and use the analogous CAD market as a reference.
Evolution of Commercial CFD
The evolution of the commercial Computational Fluid Dynamics (CFD) industry from the original pioneers makes for an interesting trip through time. Join me as I trace the ancestry of current day CFD vendors.