February 2009
Submitted by symscape on February 13, 2009 - 11:51
It's Symscape newsletter time again, is it just me or does it seem to arrive faster with each passing month? You're right, it's probably just me! As you'll see below we have more Caedium RANS Flow add-on progress to report. You'll also find an update to our tools tutorial and a couple of new blog posts.
Caedium RANS Flow Progress
The latest Caedium RANS Flow add-on feature we've just added allows extraction (interpolation) of results on to arbitrary geometry. The animation below shows this new capability in action, where a rectangular plane is used to extract the local air velocity magnitude from an airflow simulation around an airplane.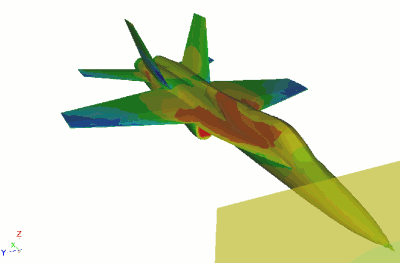 Caedium RANS Flow Results Extraction Sneak Peek
We are still working hard towards a final release of the Caedium RANS Flow add-on, which we hope will be by mid-year 2009. Already we have completed most of the big features - now it's time to apply some polish.
Tool Tutorial Update
Recently we've received some questions about how to configure the tools found in the Geometry Tool Palette. In an effort to better answer these queries we've updated the documentation of how to apply tools and added a new section on how to change their associated properties.
Blog
Below are teasers for our latest blog posts. The titles are links to the full posts.
Cape Wind: Engineering is the Easy Part
You'd think that siting and constructing an offshore wind farm would be all about engineering and financial challenges, but you'd be wrong, at least in the case of the proposed Cape Wind wind farm in the waters off Cape Cod, Massachusetts. Cape Wind is a US$900 million project that aims to construct and run 130 horizontal-axis wind turbines to generate 468 (at peak) megawatts on Horseshoe Shoal in Nantucket Sound.
Creative Destruction
The economist Joseph Schmumpter popularized the idea of Creative Destruction, which states that the rise and fall of companies is an integral part of long-term economic growth. You'll find a similar theme in The Innovator's Dilemma. Given the current economic crisis we've seen a lot of companies in near freefall. There's the fall, where's the rise?