February 2010
Submitted by symscape on February 10, 2010 - 10:07
We are back in full flight this month after last month's Florida trip - nothing like a New Hampshire winter to help you focus on work just to keep warm! For all those Apple fans out there - read about our progress towards a native Mac OS X version of Caedium. Also check out our Computational Fluid Dynamics (CFD) simulation of an F1 in Schools CO2 jet-powered dragster. And if that isn't enough, there's always the latest blog posts.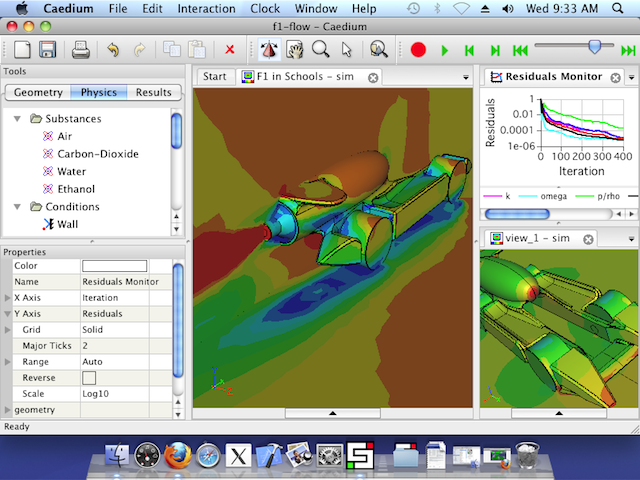 Caedium on Mac OS X: Showing an airflow simulation around an F1 in Schools dragster
Caedium on the Macintosh
A native Mac OS X version of Caedium is almost ready for release, as the image above shows. Just to be clear, this is not a Windows version running in Boot Camp or Parallels, and not an X Application, but a true native Mac OS X application. The relative ease of producing a native Mac version of Caedium along with the existing Windows and Linux versions demonstrates the unique cross-platform architecture embedded within Caedium from its initial conception. Caedium will become one of the few (maybe only) commercial CFD analysis tools to run as a native application on the Mac.
CFD Analysis of an F1 in Schools Dragster
F1 in Schools is an international competition for student teams (aged 9-19) to design, analyze, build, and race CO2 jet-powered cars (dragsters). Beyond promoting Formula 1 (F1) to the next generation of fans, F1 in Schools aims to give a flavor of running an F1 team by exposing students to finance, marketing, and engineering. Of course the most exciting area (as in F1) is engineering, where students get to use state-of-the-art 3D CAD/CAM software to design and build their dragsters. Performance optimization through analysis of the dragster design is also encouraged, which inevitably leads to CFD - this is where Caedium Professional can help. Read more
Blog
Below are teasers for my latest blog posts.
Kennedy Space Center: Saturn V
After attending the 2010 AIAA ASM Conference in Orlando, I took the opportunity to bask in the Florida sun (if not heat - it was unseasonably cold, though still a whole lot warmer than New Hampshire in January) and visit the Kennedy Space Center. The highlight of the visit to Cape Canaveral was the Apollo/Saturn V Center, which houses a complete Saturn V rocket - follow along for a pictorial review of my trip with historical perspective thanks to Wikipedia. Read more
Tailgate: Up or Down?
Debate rages (OK, maybe rages is a little strong) amongst pickup truck drivers as to whether it is more efficient to drive with the tailgate up or down. The urban legend is that running a truck with the tailgate down reduces the truck's drag and therefore improves its fuel economy. Read more