February 2011
Submitted by symscape on February 15, 2011 - 07:22
There's something for everyone this month, with a CFD simulation of a solar panel, a couple of new articles, and 3 new blog posts. In other news, have you noticed our new slogan? We've replaced our long serving slogan Computer-Aided Engineering for All with Computational Fluid Dynamics for All, which we feel better reflects our reason for being.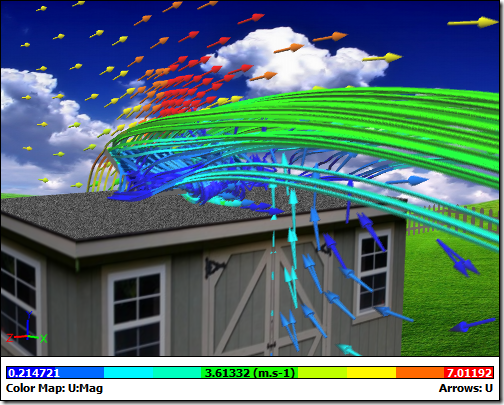 Caedium CFD Simulation of Air Flow Over a Solar PanelMounted on a shed roof
CFD for Solar Panels
Solar panels are solid-state, right? No moving parts and certainly no fluid flow - unless you count the rivers of electrons flowing in a semi-conductor. So what role is there for Computational Fluid Dynamics (CFD)? Once installed, how can you be sure that those brackets holding the panels in place are strong enough? Or even if your roof is strong enough to cope with the wind loading on the solar panels? Remain calm, CFD is here to help in the form of Caedium Professional. Read more >>
The Case For Caedium
A presentation that makes the case for Caedium: affordable CFD for all. Read more >>
Convection and Heat Transfer
Heat transfer plays a primary role in the design of electronics cooling and Heating, Ventilating, and Air Conditioning (HVAC) systems. Heat transfer also plays an important role in many other applications, such as gas turbines, heat exchangers, brakes, and even people. Read more >>
Blog
Below are teasers for my latest blog posts.
CFD Novice to Expert Reloaded
Did you miss our 7-part CFD Novice to Expert series that ran last year? Or did you find it hard to navigate without an index? If so this post is for you. Read more >>
Caedium Slide Shows
I've just discovered how to share Google Docs, so I've dug through the Symscape archives and uploaded a sample of Caedium related slide shows. Take a look and tell me what you think. Read more >>
The Caedium Screencasts
Recently I've been busy recording Caedium screencasts, which you'll find sprinkled among our tutorials. Maybe you've seen them? If not, the entire series is listed below. Now, where's your popcorn? Read more >>