January 2009
Submitted by symscape on January 14, 2009 - 20:20
Time is certainly flying, 2009 is already here and our Caedium RANS Flow add-on is steadily gaining capabilities ready for its release. In our latest sneak peek image below you can see a low-speed (incompressible) airflow simulation around the YF-17 (F18 prototype) imported as an OpenFOAM case. Also since our previous newsletter we've added some extra website content that is summarized below.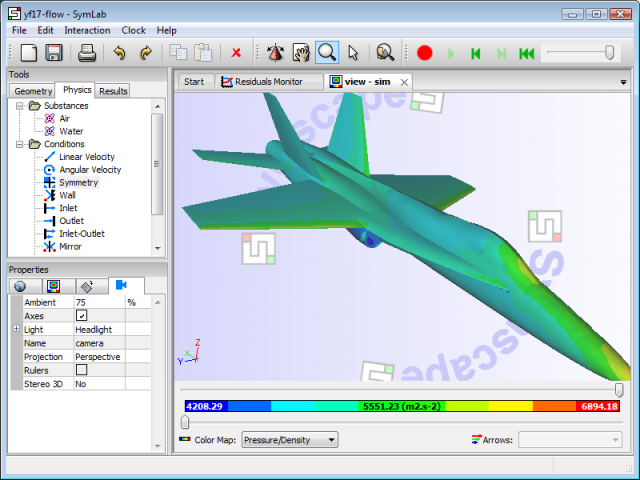 Low-Speed Airflow Sneak Peek
Using Fields and Variables
Caedium uses Pipeline Driven Technology to configure a simulation and present results. The primary Caedium simulation results are known as Fields (e.g., velocity) and Variables (e.g., time). To display your results you need to first define:
What you want (e.g., velocity)
Where you want it (e.g., on a wing surface)
How you want it (e.g., contours of velocity magnitude)
For more on the what, where and how of Fields and Variables, see our latest tip.
The End of Clusters?
Are we approaching the end of cluster computing for Computer-Aided Engineering (CAE) analysis tools such as Computational Fluid Dynamics (CFD)? Or is it simply the end of the beginning of an era to be further dominated by clusters? Read more in our blog.
Website Updates
Did you vote for your favorite operating system in our poll? Do you want to know which operating system is the most popular amongst Symscape visitors? The votes have been counted and the poll is now closed, so if you want to see the results visit our homepage, but first you'll have to vote for your favorite CAD system in our new poll.
Did you notice the Symscape website menu reshuffle? With the New Year we've been cleaning house and moved Examples and Tutorials to be primary menus and pushed the blog and gallery into our Resources area.