January 2011
Submitted by symscape on January 12, 2011 - 16:28
Happy New Year, and to celebrate we have a new website design for you, with numerous improvements. See if you can spot them without being prompted, or just keep reading and all will be revealed. In other news, the January edition of Racecar Engineering ran a feature article on Caedium. And to round out this update, we have a couple of fun new videos and a varied selection of blog posts.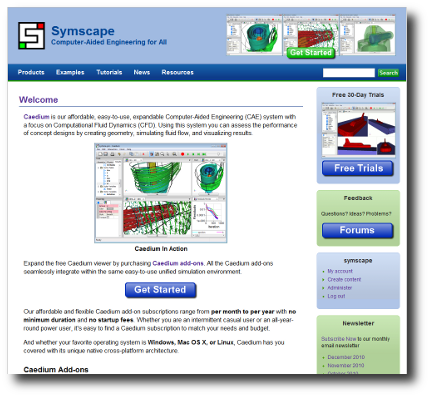 New Website Design
Website Redesign
For a new year, a new website design. If you are a regular visitor to our website you may have noticed some changes, at least I hope you have! Just in case you need some hints, how about a summary of the major changes?
More appealing, modern look, including more colors with a blue and green theme in the header, footer, and side panels
More intuitive feedback-based forums with new categories: questions, ideas, and problems
Racecar Engineering Features Caedium
In the January 2011 edition of Racecar Engineering there is a feature article on Caedium by Simon McBeath. The article highlights the Computational Fluid Dynamics (CFD) capabilities of Caedium and the motivation behind it. Read more >>
Robot Videos
Did you know that we have a YouTube channel? Well you do now! Our two latest videos star animated robots presenting recent blog posts, see if you can guess which ones?
Blog
Below are teasers for my latest blog posts.
CAE Without CAD is Lame, CAD Without CAE is Blind
As well as dreaming up innovative ideas, small engineering companies and consultancies need access to cost-effective tools that let them explore, optimize, and validate their widgets. There are plenty of Computer-Aided Design (CAD) tools available, but CAD is not enough. Read more >>
Engines of Innovation
Larger companies often have great difficulty innovating at the product and service level. Often innovation in large companies is solely concerned with business process innovation, i.e., freeing up their rigid hierarchies to better manage their existing business processes. When it comes to new exciting products and services small companies are the engines of innovation in most industries. Read more >>
Build Your Own 3D Red-Blue Glasses
Did you know that Caedium can produce 3D stereoscopic images of your CFD results? You can view them in real time using red-blue glasses. The only drawback is obtaining a pair of said glasses - well not any more. Read more >>