July 2009
Submitted by symscape on July 16, 2009 - 19:39
Another month, another progress report on our Caedium RANS Flow add-on. I know - it's taking longer than I anticipated, but it will be worth the wait. Also this month I've posted a new poll, created a Symscape Facebook page and added 3 new blog posts.
Caedium RANS Flow Add-on Progress
Currently I'm working on improving the robustness of the triangle and tetrahedral meshing tools. I'm also focused on improving the element quality that these mesh tools produce in order to improve the overall simulation results accuracy. You can get an idea of the complexity of the geometry I'm considering and my progress in the image below.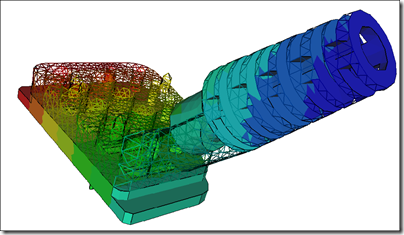 Complex Meshing Example
New Poll
The results are in from our previous poll - What's your favorite CAD system? Head on over to our website to see the results. So it's time for another poll - What's your favorite RANS CFD solver? Visit our homepage to register your vote now.
Facebook and Twitter
Hot on the heels of providing a Twitter feed, I've added a Symscape Facebook page (fans most welcome), expanding our social-networking footprint. The Symscape Twitter feed and Facebook page are great ways to keep up with Symscape developments as they occur. You can also have your say and leave feedback via comments and tweets.
Blog
Below are teasers for my latest blog posts.
Why Do Cyclists Shave Their Legs?
After watching a recent stage of the Tour de France I started wondering; is there any reason from an aerodynamic and heat-transfer perspective, why cyclists shave their legs? Read more
Science Museum: Vertical Takeoff and Landing
The London Science Museum houses some historic exhibits as I found out on my recent visit. I've already posted articles on computing and rockets. Next up I'll cover a series of exhibits that related to the world's first Vertical Takeoff and Landing (VTOL) fixed-wing jet fighter - the Harrier 'jump jet.' Read more
Science Museum: Rockets and Space
Following my computing-themed post about my London Science Museum visit, it's time to move on to the rockets and space exhibits. Hold onto your hats, here we go. Read more