July 2010
Submitted by symscape on July 15, 2010 - 08:14
Big news this month is a new release of our free Windows patch for OpenFOAM® with 64-bit and parallel capabilities. This is a precursor to providing the same capabilities in the Caedium RANS Flow and Professional add-ons (see sneak peek screenshot), but that's likely next month's lead story. Also check out the latest developments in our our website infrastructure and a blog article with a geeky theme.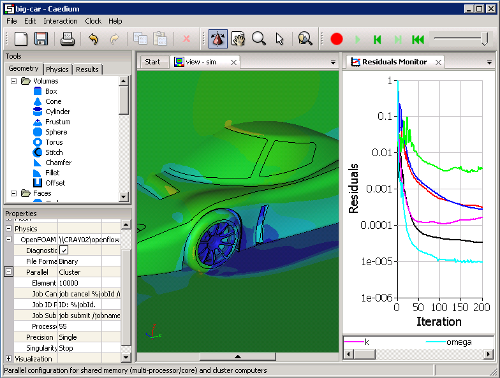 Sneak Peek: Caedium on Windows HPC Server 2008 (Cluster)
OpenFOAM 1.6.x on Windows 64-bit with Native MPI
The latest version of our Windows patch for OpenFOAM 1.6.x now supports 64-bit compilation using the MinGW-w64 cross-compiler and parallel computation using the native Windows MPI implementation provided by the free Microsoft HPC SDK and also available on Microsoft Windows HPC Server 2008 for clusters. Be warned, as always, that to build OpenFOAM for Windows with a cross-compiler requires expert knowledge of Windows and Linux utilities and compilers. Read more
Mobile Device Friendly
Got a mobile device? (e.g., iPhone, iPod Touch, Android, Blackberry, Nokia) Then check out our new mobile-friendly website - same URL www.symscape.com and same great content as the desktop version but formatted in a single column for easier viewing on small screens.
Engineers as Loner-Loser-Uncultured-Geeks - Not!
Remember being shunned at college (at least in England) for being an engineer (or scientist) by the oh so trendy arts and humanities crowd? I do. We geeks were characterized as uncultured loners and losers. Well I've been re-examining the evidence and I think we should have stood our ground and turned this whole loner-loser-uncultured-geek thing on its head and fired it right back at the arts and humanities posse. Read more
Note
OpenFOAM is a registered trademark of OpenCFD and is unaffiliated with Symscape