July 2013: Virtual Wind Tunnel, Quadcopter and 3D Printing
Submitted by symscape on July 15, 2013 - 07:46
Another new Caedium release and some interesting Computational Fluid Dynamics (CFD) applications - all in a month? That's right! You'll find a couple of new Caedium features that we couldn't hold back and a series of blog posts covering a virtual wind tunnel, a quadcopter, and 3D printing.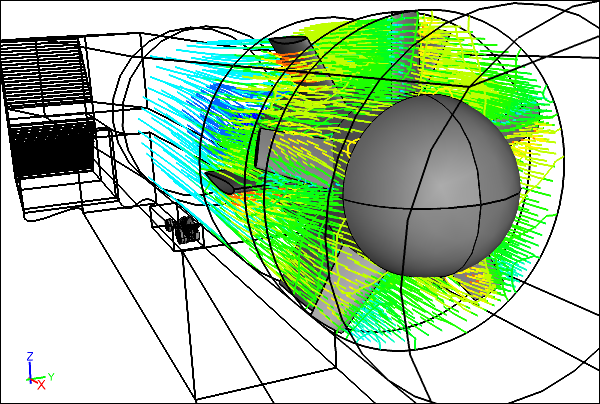 Airflow Through the Virtual Wind Tunnel FanStreamlines colored by velocity magnitude
The latest version of Caedium (v5.1) has a new Helix tool for your CFD simulations and improved mesh element size control. Read more >>
Having recently built a CFD simulation of the Honda Wind Tunnel at Imperial College, it seemed only fitting to actually use it to perform a virtual test on a scale model. Clearly, given the wind tunnel's close association with motor racing, the test model had to be a racecar. Read more >>
Have you ever wondered what are the main features of a wind tunnel and what purpose do they fulfill? Well wonder no more. With the help of CFD let's explore a closed return wind tunnel based on the Honda Wind Tunnel at Imperial College, London. Read more >>
A Moving Reference Frame (MRF) is a relatively simple, robust, and efficient steady-state, CFD modeling technique to simulate rotating machinery. For example, the rotors on a quadcopter can be modeled with MRFs. Read more >>
3D printers are the new black.
"3D Printing will be bigger than the web", Chris Anderson, ex-Wired editor
"Why MakerBot is Like Apple", John Biggs, TechCrunch
In US$403M deal Stratasys buys MakerBot
Whether 3D printing can live up to the hype remains to be seen. However, making things has been around since time eternal. The fact that 3D printers have reached a price point allowing small businesses and hobbyists, collectively referred to as Makers, to leap on board is definitely exciting. However, what hasn't changed is that building a physical thing still costs time and money. What can we learn from the millennia of building things prior to the availability of 3D printers? Read more >>