March 2009
Submitted by symscape on March 10, 2009 - 15:44
Hope you are ready for spring, I know I am. It's been a long, cold winter here in New Hampshire. Anyway the Symscape newsletter is here with some spring cheer, including the latest Caedium RANS Flow add-on progress, a new tip for clipping a view and my latest blog post.
Caedium RANS Flow Progress
Our latest sneak peek shows a spinning drum with an internal air passage, similar to an industrial rotary drum dryer.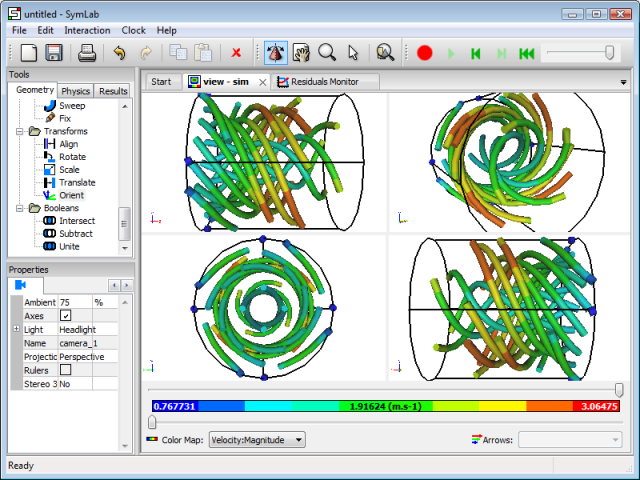 Rotating Drum
Rotating walls around an arbitrary axis are a new addition to the growing list of capabilities we are preparing to release with our Caedium RANS Flow add-on.
Clipping a View
After either opening or importing a complex geometric model, have you found it difficult to discern what's underneath the outer shell of faces? If so, then you may find the Clipping feature in Caedium useful.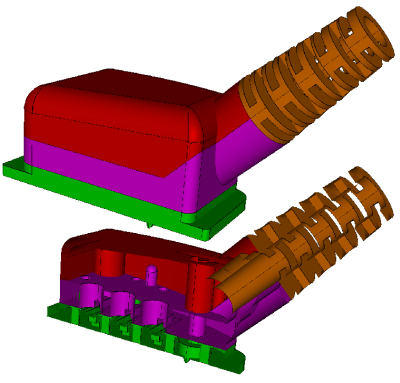 Clipped View
By clipping a view you can interactively move planes through your geometry in the X, Y and Z directions, and anything that lies outside them will be hidden.
For the entire article see our latest tip.
Aerodynamic Golf Clubs
Aerodynamic considerations in golf ball design are nothing new, but the other golfing implement, the club, has resisted aerodynamic optimization until now. A new generation of golf drivers is now sporting streamlined, aerodynamic profiles in order to improve driving distances due to reduced club-head drag.
For the full post see my blog.