May 2010
Submitted by symscape on May 18, 2010 - 09:50
Not sure whether you want to commit to a full year Caedium Professional subscription after your 30-day free trial ends? Well you'll be pleased to know that now you have the option to purchase per month and per quarter Caedium add-on subscriptions. Ever wondered what it takes to become a CFD expert? Then have I got a series of blog posts for you. Keep reading and all will be revealed.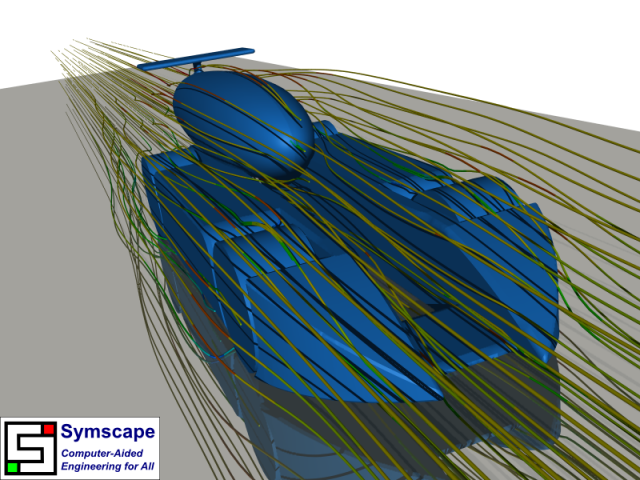 Inspiration: Airflow Around a Rocket Car
Introducing Flexible Caedium Subscriptions
Caedium subscriptions are now available per month, per quarter, and per year for small businesses and hobbyists to perform Computational Fluid Dynamics (CFD) simulations as needed. The new subscriptions bring CFD within the budget of anyone who wants to join the virtual simulation revolution. Read more
Blog
Below are teasers for my latest blog posts.
CFD Novice to Expert Part 1: Get Inspired
Say you've come up with an idea that can solve the energy crisis by reducing the drag of cars by X%, but how to proceed? Whichever way you turn you keep coming across the same phrase - Computational Fluid Dynamics (CFD) - with the almost fantastical claim that it can, in large part, replace expensive physical modeling techniques such as wind tunnels - but still, how to proceed? Money and time are tight, but you're talking about solving the energy crisis for the good of humanity. There simply has to be a way to proceed. Enough already - let's proceed with part 1 of this 7-part series. Read more
CFD Novice to Expert Part 2: Fluid Dynamics 101
Hopefully you were suitably inspired by "CFD Novice to Expert Part 1: Get Inspired" and that's why you are here now ready for part 2 of this 7-part series. Read more
CFD Novice to Expert Part 3: Fluid Dynamics 201
Back for more fluid dynamics? I know - the brief introduction in "CFD Novice to Expert Part2: Fluid Dynamics 101" was good, but it only skimmed the surface, so onwards with part 3 of this 7-part series. Read more
CFD Novice to Expert Part 4: CFD 101
Great to see that you are sticking with the series. After the previous article "CFD Novice to Expert Part 3: Fluid Dynamics 201" you are now rapidly approaching halfway, with this being part 4 of this 7 part series. Read more