November 2008
Submitted by symscape on November 18, 2008 - 19:31
It's taking a little longer than we originally anticipated developing the next major release of Caedium. However, I'm sure once you see the final product you'll agree it was well worth the wait. Read on for a development update.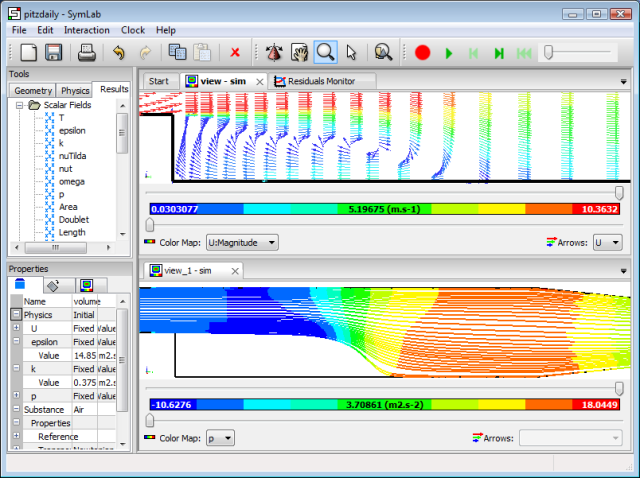 Caedium RANS Flow Add-On Sneak Peek
Caedium RANS Flow Add-on Progress
The focus of our Caedium RANS Flow add-on development this past month was on import and export of OpenFOAM and FLUENT cases. The screenshot above shows a sneak peek of a backward-facing step (Pitz Daily) OpenFOAM tutorial successfully imported, configured, solved (using simpleFoam, the steady-state turbulent incompressible flow solver) and visualized all within our Caedium unified simulation environment. If you'd like to help our development effort we'd appreciate any ASCII, single zone FLUENT files (.msh or .cas) that you can share with us in order to test our FLUENT case import.
Blog
After nearly 2 years of posting a blog article every week, we've decided to relax the posting rate so as to focus all our resources on the development of our Caedium RANS Flow add-on. Below are teasers for our latest blog posts. The titles are links to the full posts.
Engineering the Bloodhound SSC
The British speed team, led by Richard Noble, that brought us the Thrust SSC (SuperSonic Car) and captured the world land speed record of 763 mph (1,228 km/h or Mach 1) in 1997 is out to go even faster with their new car, called Bloodhound SSC. Their objective is to raise the record to 1,000 mph (1,609 km/h or Mach 1.31), a 31% improvement over their previous mark.
The Complexity and Beauty of Fluid Dynamics
Do you ever take a moment to marvel at the inherent complexity and beauty of fluid flow? You don't have to go far, just look around. From the drip of a tap to the contrails left in the sky chasing a jetliner - it's easy to take for granted.