November 2010
Submitted by symscape on November 11, 2010 - 13:00
Have you been following along with the F1 in Schools story? It started way back in February with the first Caedium CFD analysis of Basilisk Performance's CO2 rocket-powered dragster. Now we have the concluding episode with the team's results from the F1 in Schools 2010 World Finals. Also noteworthy this month: we have added a tip on Caedium's particles, and you'll find a couple of new blog posts.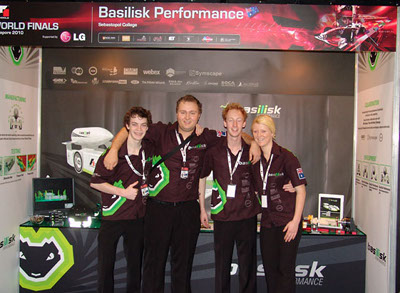 Basilisk Performance Team and Booth
F1 in Schools World Finals and Caedium CFD Simulations
After winning the Australian F1 in Schools title in March, Basilisk Performance went on to the F1 in Schools World Finals held September 20-22, 2010 in Singapore. Brett Sizeland, the team's chief designer, again turned to Caedium CFD simulations to help guide the aerodynamic design of the car. Read more >>
Particles or Streamlines
Particles (also known as streamlines) in Caedium represent the instantaneous path of massless particles through a flow volume or along a face if so constrained. This tip describes how to create particle paths and animate them. Read more >>
Blog
Below are teasers for my latest blog posts.
CFD Tooling Up
Often with the manufacture of physical products tooling up can make or break a project. Imagine creating the jigs and constructing the custom machines for a new car such as the Chevy Volt, and you can easily see where a large portion of the estimated US$750M development costs are destined. The cost of tooling up serves as a huge barrier to entry for the car market and it is one of the main reasons that there are relatively few car companies producing cars for the masses. OK, but what does this have to do with Computational Fluid Dynamics (CFD) tooling up? Read more >>
Water: Blog Action Day 2010
The theme for the 2010 Blog Action Day is water. Unfortunately I don't have any big ideas to improve the inequality of access to clean water across the planet. However, I do hold out hope for efficiency improvements in industrial processes that use water. Why? Because when given the right incentives and resources, engineers' ingenuity can be channeled to overcome seemingly insurmountable problems. Looking for an example? Engineers landed men on the moon and returned them safely to earth over 40 years ago with the computing power of today's digital wrist watches. Read more >>