October 2007
Submitted by symscape on October 10, 2007 - 13:37
It's here! Caedium v1.1.0 is ready for action. Through sneak peeks in our July 2007 and September 2007 newsletters we've already given a glimpse of the new functionality – now we can reveal all.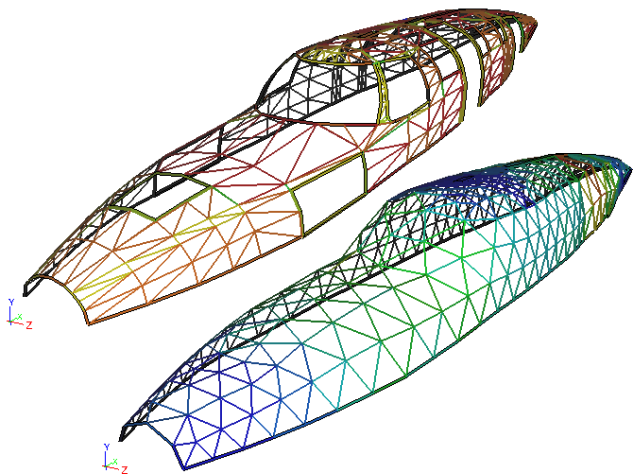 Simplified Faceted Fuselage: Faceted import and join tool are a powerful combination
See our Caedium v1.1.0 Released announcement for a discussion of major new features and review our Caedium forum announcement for a more detailed breakdown. In summary the major push for this release was enhancements to our Builder and Exchange add-ons as outlined below:
Builder – now includes our new Flexile Technology with a join tool for feature suppression and a new surface offset tool
Exchange – now uses our Faceted Geometry Technology to import and export stereolithography (.stl) files and import Alias/Wavefront (.obj) files
Download and install Caedium for free if you haven't already. Then try our Professional add-on free for 30 days to experience these latest enhancements. If you already have Caedium installed and can't wait for the automated update then update manually in Caedium using Help->Check for Updates.
We look forward to hearing back from you on how these new features impact your use of our Caedium system.
Below are our latest blog posts since our previous newsletter. Click the titles to read the entire post.
Faceted Modeling
A vast army of 3D artists, initially led by movie and game animators, but more recently joined by students and hobbyists, have compiled an extensive archive of 3D faceted models. These models cover every imaginable item from the mundane, such as eating utensils, to the realms of pure fantasy, such as the Starship Enterprise from Star Trek.
Submersible Racecar
While on the surface it seems that submersibles and racecars share nothing in common – dive a little deeper and you'll see that they do. Racecar giants Lola and Cosworth are playing a major role in helping BAE Systems develop an Unmanned Underwater Vehicle known as Talisman.
Micro Air Vehicles
Micro Air Vehicles (MAVs) are a relatively new class of flying craft that are attracting interest from a broad spectrum of users spanning soldiers to children.
Microfluidics
Microfluidic devices played a leading role in the sequencing of human DNA during the Human Genome Project, resulting in its completion ahead of initial estimates. They can also be found in most inkjet printers controlling the ink sprayed onto a page. Further advances in the design and manufacture of microfluidic devices, such as the so called lab-on-a-chip, show promise for a revolutionary range of applications.