October 2008
Submitted by symscape on October 20, 2008 - 07:37
This month we have a couple of newsworthy developments here at Symscape: the inclusion of Caedium in a recent Desktop Engineering article; and the update of a source code patch for OpenFOAM v1.5.x in support of our upcoming Caedium RANS Flow add-on.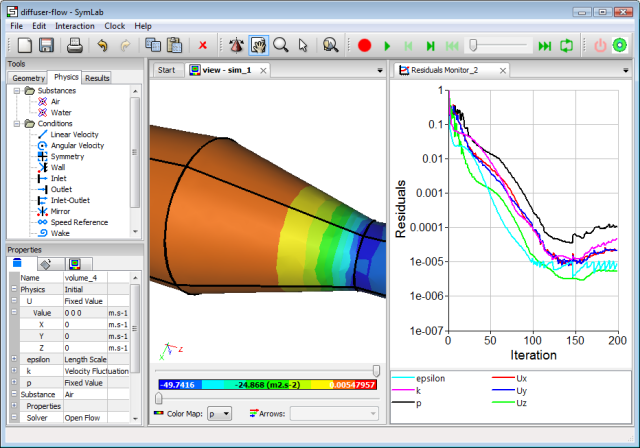 OpenFOAM v1.5.x used by upcoming Caedium RANS Flow Add-on
Caedium in Desktop Engineering
See how Caedium, our unified simulation environment, and its add-ons compare to other Computer-Aided Engineering tools in the "Computer-Aided Engineering at a Glance" table within the Desktop Engineering (September 2008) article "Analysis Meets Design" by Laurie Toupin.
OpenFOAM v1.5.x on Windows
Remember in our April 2008 newsletter we announced a freely available source code patch for OpenFOAM v1.4.1 that enabled the creation of native Windows OpenFOAM solvers? Well we just updated the patch for the latest OpenFOAM release, v1.5.x. This update supports the upcoming release of our Caedium RANS Flow add-on that will use some of the OpenFOAM solvers to expand our general fluid flow and heat transfer capabilities.
Blog
Below are teasers for our latest blog posts. The titles are links to the full posts.
Lessons in Computational Fluid Dynamics
After a string of success stories (e.g., "Car Design and CFD"), Computational Fluid Dynamics (CFD) recently came in for some implied (if not direct) criticism in two widely reported articles. Peering behind the headlines reveals important lessons in benchmarking and the use of CFD.
Eco Racing
The idea of environmentally friendly motor racing at first glance seems like an oxymoron. Yet there are numerous examples of eco racing where speed isn't the only measure of success. And it's not just driving skills that are tested; most events require the manufacture of a vehicle - stretching engineering skills too.
Wind Turbine Powered Tricycle
What do you get if you combine a wind turbine with a tricycle? The Ventomobile - a vehicle that can drive directly into the wind, but is also powered by the wind.
Whales Inspire New Turbine Blades
Turbine blades inspired by whales (that's the mammals and not a misspelling of the country Wales) show promise in delivering improved efficiency and operational range. This example of reverse engineering of a naturally evolved design (referred to as biomimicry) demonstrates that nature is still a rich resource of inspiration for traditional engineering disciplines.