October 2009
Submitted by symscape on October 14, 2009 - 19:12
You know the routine - I'll say "The new Caedium (v2) release is looking good with the Caedium RANS Flow add-on being the star attraction," then you'll say "Great, but when will we be able to get our hands on it?" Well the wait is almost over - find out more below, including a special price-busting offer. Also we've updated our OpenFOAM Windows patch, and added a couple of new tutorials and blog posts.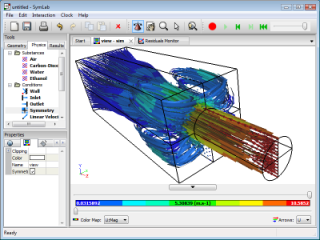 Incompressible Turbulent Flow Tutorial Sneak Peek
Caedium v2
If you've visited the Symscape website recently you may have noticed the addition of a new product page for the Caedium RANS Flow add-on with the tag line Coming Soon. As I mentioned last month we are entering the final release preparation phase:
The software installers for both Windows and Linux are configured and ready
A set of new tutorials covering the Caedium RANS Flow add-on are awaiting final review
Testing is almost complete
So barring any unforeseen problems, the final release should be available within a month - certainly prior to the next newsletter.
Special Offer
Beat the imminent Caedium Professional add-on price increase to $999.99/year due to the inclusion of the Caedium RANS Flow add-on. Buy now at only $299.99/year - that's a 70% discount - and receive the Caedium RANS Flow add-on as a free update once it's released.
OpenFOAM v1.6.x on Windows
We've just released a new source-code patch that can build native Windows executables for the latest OpenFOAM release, v1.6.x. This patch supports the imminent release of our Caedium RANS Flow add-on.
New Tutorials
In anticipation of the new capabilities offered in the Caedium RANS Flow add-on we are preparing a set of new tutorials. Two new tutorials focused on geometry creation for the flow volumes used in the new RANS Flow tutorials are already available:
Imprint a Face onto a Volume - Create a box and imprint a quadrant of a circular face onto it using the subtract, intersect and stitch tools.
Pipe into a Box - Create a symmetrical quadrant of a flow volume by uniting a box with a cylinder and then intersecting the resulting geometry with another box.
Blog
Below are teasers for my latest blog posts.
Open or Closed Source Software
Raised eyebrows are the norm when people realize that I have developed a Closed Source Software (CSS) application by integrating a number of Open Source Software (OSS) systems. Before we explore the Symscape business model, keep in mind that everyone needs shelter, food, and health-care, i.e., even software developers need to be paid. Read more
British Steam Car with a Need for Speed
What is it with Brits and their Need for Speed? I've covered Greenbird, the record-breaking land yacht, Quicksilver, a contender for the world water-speed record, and Bloodhound SSC, the concept design for another world land-speed car from the team that holds the current record. What do they all have in common? You guessed it, they are all British-based teams. Well, we can add another team to the list - that of 'The British Steam Car,' who recently broke the world land-speed record for a steam-powered car. Read more