What is a free trial?
Submitted by symscape on January 14, 2007 - 14:26
A free trial (typically lasting 30 days) provides full access to all features of an add-on for evaluation purposes.
A free trial permits one user to use the associated Caedium Add-on on one computer, i.e., trials are per computer per user.
To obtain a free trial, click the free trial button near the top of each product page that describes the add-on you want to evaluate (e.g., Professional add-on), as shown below.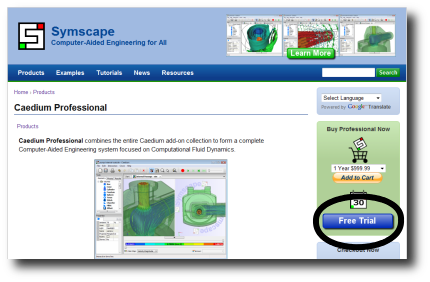 If you are eligible for a free trial, a product activation license key will be sent to the email address you supplied when making the trial request.
To be eligible for a free trial, you must not have requested the same free trial previously. Additional eligibility restrictions, if any, will be mentioned in the product add-on description.
We will email you a reminder prior to the free trial expiry and notify you again after the free trial expires. The add-on will cease to work after the free trial expires unless you purchase a subscription.