What is the Windows installation process?
Submitted by symscape on August 11, 2010 - 16:10
Our software is available to download and install directly from the Internet. This method of distribution eliminates the cost of distributing software on CDs (e.g., postage and packaging). We pass these savings onto you, our customers, in the form of free trials and affordable subscriptions.
Our installation process for Microsoft Windows begins when you click the link to our Windows installer. Caedium can be installed from any browser, but the description that follows is for Internet Explorer 8.
Caedium requires administrator access to install.
After clicking the Windows installer link, you will see a File Download - Security Warning dialog, as shown below.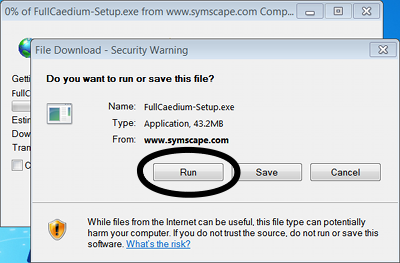 Click the Run button to download the setup executable. A file download progress dialog will appear.
Next, an Internet Explorer - Security Warning dialog will appear, as shown below.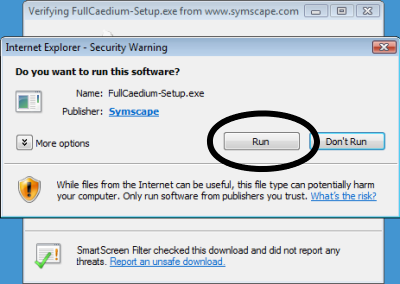 Proceed with the installation only if Publisher: Symscape is displayed. This confirms that the installation file has our digital signature and has not been tampered with. Our products, identified by our digital signature, are free from spyware and malware.
Click the Run button.
If you are installing on Vista and the User Account Control is enabled (default setting for administrators), then expect a User Account Control dialog to appear. Click the Continue button.
A Setup Wizard will now begin as shown below.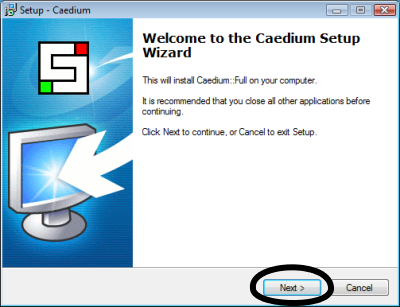 Proceed through the standard wizard pages by using the Next button. When you reach the Select Components page (shown below), there is the option to install all the Caedium Add-ons (checked by default - includes the Professional add-on). Also there is an option to install Microsoft MPI (checked by default), which is necessary for parallel multi-core CFD simulations on a single computer. However, Microsoft MPI should not be installed on Microsoft Windows HPC Server, which has its own version of MPI by default.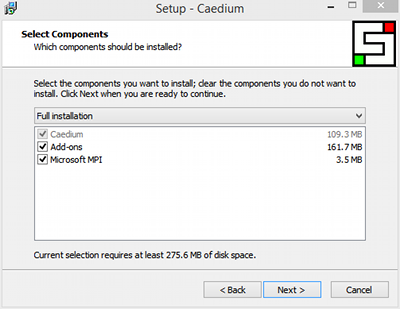 There is no restriction on installing the Professional add-on, but to access the add-on features within Caedium requires product activation. Proceed through the remaining wizard pages using the Next button.
Once you are happy with your settings click the Install button.
You will have the option to launch Caedium when you click the Finish button, as shown below.