Vertical-Axis Wind Turbines
Submitted by Richard Smith on June 4, 2007 - 14:05
While clusters of horizontal-axis wind turbines are our primary weapon in the war to reduce greenhouse gas emissions to save the planet from the effects of global warming, there are other interesting wind turbine designs. Vertical-axis wind turbines (VAWT) come in a variety of shapes and sizes for those keen to take the path less travelled.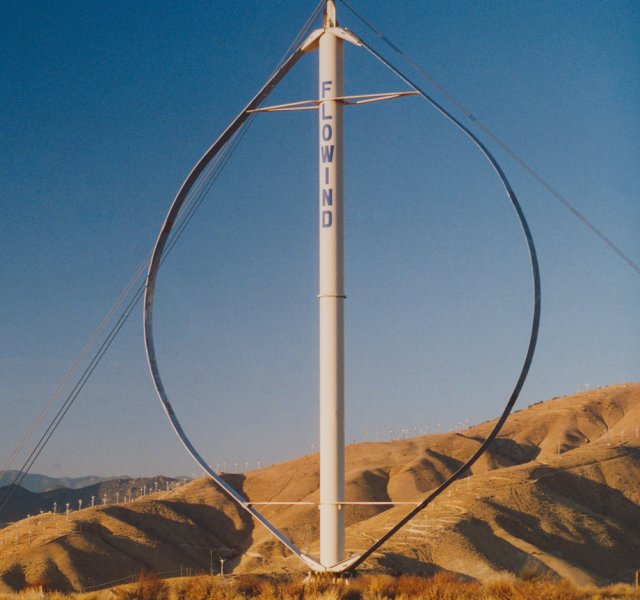 Darrieus Vertical-Axis Wind TurbineImage courtesy of FloWind
CFD For Your Wind Turbine
Are you ready for a 30-day free trial of Caedium Professional?

The main advantage of a vertical-axis wind turbine over a horizontal-axis wind turbine is its insensitivity to wind direction and turbulence. A vertical-axis wind turbine can therefore be mounted closer to the ground, making it safer and cheaper to build and maintain. It still needs access to plenty of wind though. The major drawback of a vertical-axis wind turbine is the inefficiency of dragging each blade back through the wind on each half rotation. A well-located horizontal-axis wind turbine is continuously driven by the wind once aligned and can be up to twice as efficient as an ideally positioned vertical-axis wind turbine. Still, the simplicity and variety of vertical-axis wind turbines makes for interesting reading as outlined below.
Darrieus
Georges Darrieus was the French inventor of the Darrieus vertical-axis wind turbine or 'eggbeater windmill' in 1931 – manufactured by FloWind (no longer trading) for North American customers. A Darrieus is a high speed, low torque machine suitable for generating alternating current (AC) electricity. The device develops lift from 2 or 3 'C' shaped blades. A Darrieus is unable to self start, which necessitates either a manual push or a more elaborate starter mechanism.
Giromill
A Giromill (also known as an 'eggbeater windmill') uses the same principal as a Darrieus to capture wind energy, but uses 2 or 3 straight blades individually attached to a vertical axis.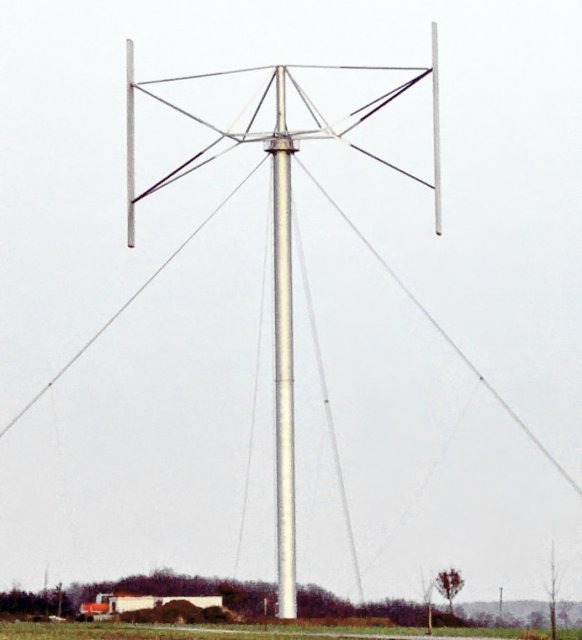 Giromill Vertical-Axis Wind TurbineLicense: GNU Free Documentation License, Stahlkocher
Helical Blades
By replacing the blades of a Giromill with helical blades wrapped around a vertical axis (in a DNA-like structure), it is possible to minimize the pulsating torque that can cause the main bearings to fail on Darrieus-derived designs.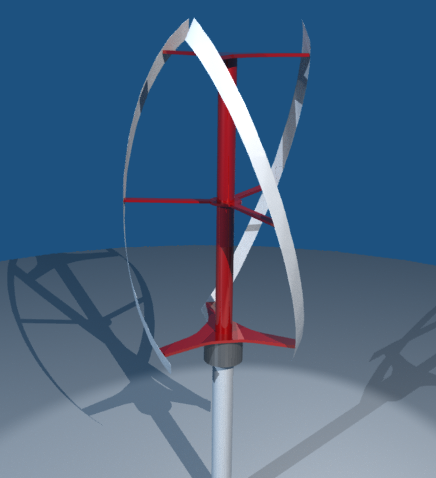 Helical Blade Vertical-Axis Wind TurbineQuietrevolution Design
The original idea for this wind turbine was inspired by the Gorlov Helical Water Turbine, which in turn was originally inspired by the Darrieus wind turbine design.
Cycloturbine
Yet another variation of the Darrieus is the Cycloturbine, which is essentially a Giromill with variable angle-of-attack blades. By varying the blade angle as it rotates against the wind, the blade drag is minimized. This modification improves the overall efficiency of the device, but also increases its complexity. Also varying the blade angle during startup reduces the startup torque required and avoids the need for a starter.
Savonius
A Savonius vertical-axis wind turbine is a slow rotating, high torque machine that is ideal for driving pumps. Whereas most wind turbines use lift generated by airfoil-shaped blades to drive a rotor, the Savonius uses drag and therefore cannot rotate faster than the approaching wind speed.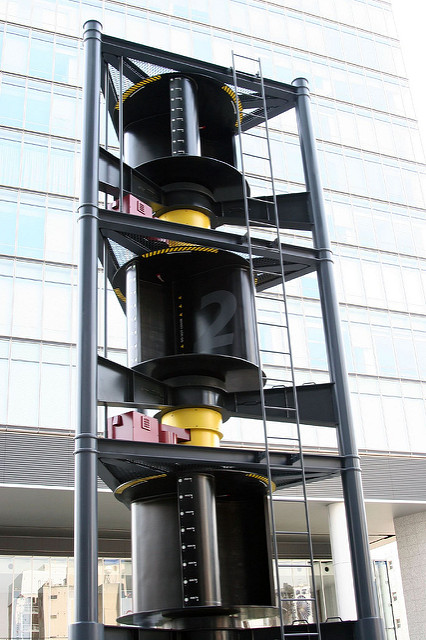 Savonius Vertical-Axis Wind TurbineLicense: CC BY 2.0, OiMax
To feed the electricity grid, the relatively slow speed of a Savonius needs to be geared up to produce AC frequencies – increasing cost and reducing overall efficiency.
Few vertical-axis wind turbines, if any, are available to buy off-the-shelf for personal use. Still that's no barrier for those open to the challenge of building your own vertical-axis wind turbine – give it a whirl.