Virtual Engineering is Here
Submitted by Richard Smith on July 7, 2008 - 19:29
Another day, another personal concept vehicle announcement - this time the ICON A5 from ICON Aircraft. Notice a pattern here? We've seen a surge in personal concept vehicle announcements recently - remember personal air vehicles, flying cars, personal helicopters, personal jetpacks and even personal submarines? Is it a coincidence or are there underlying forces making such vehicles inevitable?
Computer-Aided Engineering
Virtual engineering tools, collectively referred to as Computer-Aided Engineering (CAE) software, are a major reason we are seeing a surge in personal concept vehicles. Ever more usable and affordable CAE tools, such as Caedium and its add-ons, allow virtual prototyping and even marketing of products. By avoiding costly physical prototypes the door is open to almost anyone with an idea to realize it virtually, using Computer-Aided Design (CAD) software, and assess it using analysis tools, such as Computational Fluid Dynamics (CFD). Followed by photo-realistic rendering, using POV-Ray for instance, potential customers are able to see a realistic glimpse of the new product.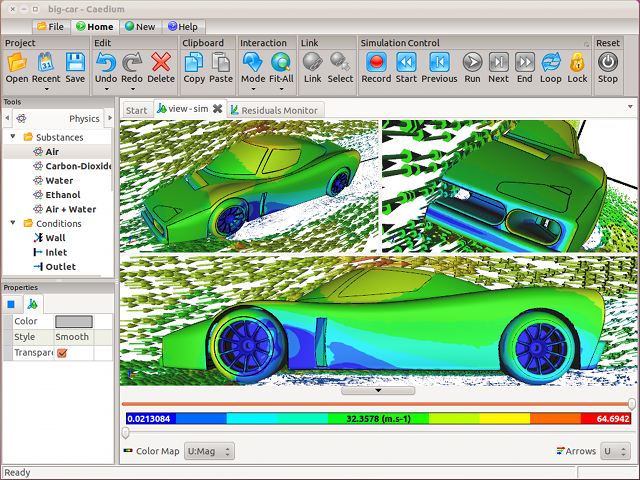 Caedium Unified Simulation Environment
Based on the response to virtual marketing material, the designers can gauge whether a concept design justifies ramping up investment and making the physical product. In some cases, such as the ICON A5, customers are asked for deposits based on the virtual product specification and presentation, which are then used to partly finance further product development, such as physical prototypes for flight tests.
Outsourcing
Another major contributor to realizing a personal concept vehicle, such as the ICON A5, is the ability to subcontract or outsource its manufacture to specialists familiar with advanced materials, such as carbon fiber.
As an example, consider that BAE Systems contracted race car chassis manufacturer Lola and race car engine maker Cosworth to build a physical demonstrator of their Talisman Unmanned Underwater Vehicle (UUV). The same reasoning saw Boeing subcontract physical construction of their X-48B blended wing-body concept to Cranfield Aerospace. This type of total outsourcing is only possible with a complete and accurate 3D design blueprint. CAE software, with its 3D digital depiction of a complete product, makes outsourcing an attractive option.
People
Of course probably the most important aspect to any product development effort is people - from the people with the idea, to the people with funding, to reaching the people who (hopefully) want to buy the final product. That's a whole lot of communication, and since the advent of the internet it has never been easier or cheaper to reach out and share information.
All Together
The reasoning presented here justifying the surge in personal concept vehicles applies equally well to virtually all other branches of engineering too. In the past, only large customer numbers justified designing and manufacturing products - think General Motors. Fortunately, we now live in an age where ever smaller customer numbers can be served profitably with niche products (ala The Long Tail) designed by small companies (even hobbyists) with minimal resources using virtual engineering tools. Outsourcing manufacturing to specialists keeps initial startup costs low until a virtual concept design proves its worth to potential customers. And the entire development, manufacturing and marketing efforts are well oiled by the ease of communication using the internet.