What's Holding Back Computational Fluid Dynamics?
Submitted by symscape on February 13, 2012 - 14:20
The results are in for our latest poll and from 166 visitors to the Symscape website an overwhelmingly number (49%) cited the price of Computational Fluid Dynamics (CFD) software as the biggest barrier to further CFD adoption. The second most cited concern (17%) was CFD software complexity.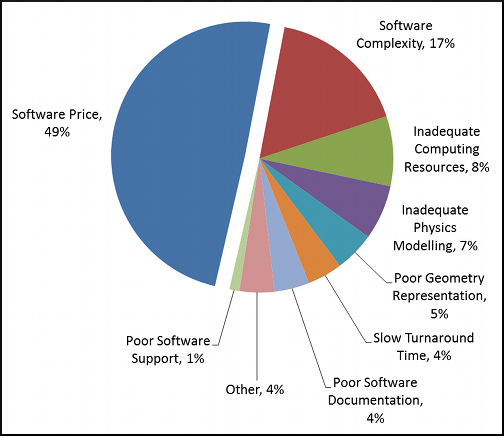 Poll Results: What is the biggest barrier to CFD adoption?
I think the pricing frustrations with CFD are due to the consolidation over recent years in the CFD industry. A few big CAD/CAE players have bought up multiple independent CFD vendors. The fallout from this reduction in competition has been stubbornly high prices, especially for multi-process parallel licenses. However, fear not, there are forces at work that will see CFD prices trending lower with time.
New competitors are beginning to enter the CFD arena sensing an opportunity to satisfy cost-sensitive users. If that were not enough, they are also producing legacy-free software with a focus on usability. I'd like to think here at Symscape we are leading the charge with Caedium - an affordable, single integrated simulation environment for CFD, but that's for you to decide.
Affordable CFD Available Now
Are you ready for a 30-day free trial of Caedium Professional?